Have a Look, Says Book (Atheneum, $17.99) to a young girl and her father. Thus begins their journey inside the pages of a book filled with everyday and not-so-everyday wonders. The book's images— a fleecy flock, a crumbly cake—invite the girl to experience them with "a look, a listen, and a touch as such." Kevin Hawkes's vivid illustrations highlight the tactile qualities of the two-dimensional images, even stylizing particular adjectives to mirror their meanings. Readers can almost feel the smoothness of "silky" and the itchiness of "scratchy." Richard Jackson's simple yet inventive text is laden with creative descriptors that children will take joy in saying aloud. From its opening to its quiet close, Have a Look, Says Book honors the pleasure and magic of reading. Ages 3-6.

$17.99
ISBN: 9781481421058
Availability: In Stock—Click for Locations
Published: Atheneum/Caitlyn Dlouhy Books - April 12th, 2016
---
B is for more than just bear in this season's wealth of refreshingly unique alphabet books. Kay Vincent's Animal Alphabet (Button, $14.99) matches clever adjectives with different animals for an alliterative alphabet accompanied by charming retro illustrations.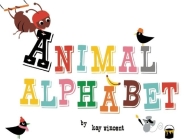 $14.99
ISBN: 9781908985651
Availability: Not On Our Shelves—Ships in 1-5 Days
Published: Button Books - March 15th, 2016
---
In Oops, Pounce, Quick, Run! (Balzer + Bray, $17.99), Mike Twohy manages to create an abecedarian narrative in just over 26 words, roughly one to a page. It's a concise, energetic, zany dog-and-mouse caper!

$17.99
ISBN: 9780062377005
Availability: In Stock—Click for Locations
Published: Balzer + Bray - February 16th, 2016
---
Pages