Seeking a thoughtful biography? Striking illustrations? Children's poems that wake you up to the world around you? You're in luck: Are You an Echo?: The Lost Poetry of Misuzu Kaneko (Chin Music, $19.50) weaves all these elements into a harmonious whole. Michiko Tsuboi and Sally Ito have translated a selection of Kaneko's poems, accompanied by the original Japanese text, into English for the first time, while David Jacobson provides a compelling account of her short but eventful life. With warmhearted illustrations from Toshikado Hajiri, this volume digs deeply into the empathy, sorrow, and joy that define life as we know it. Ages 6-11.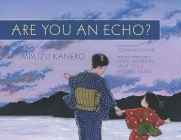 $19.50

ISBN: 9781634059626
Availability: Not On Our Shelves—Ships in 1-5 Days
Published: Chin Music - September 13th, 2016
---
A bucolic farm transforms into a lively construction site in Old MacDonald Had a Truck (Chronicle, $16.99), author Steve Goetz's playful take on the traditional children's song. The book jubilantly introduces young building aficionados to excavators, bulldozers, and graders, pairing machinery with lively language that invites children to participate in the telling. As Old MacDonald directs the construction, Mrs. MacDonald labors on a separate project: transforming an old farm pickup into a gleaming monster truck. Perfectly accompanied by Eda Kaban's exuberant illustrations, this celebration of all things construction is sure to inspire young engineers! Ages 2-5.

$16.99

ISBN: 9781452132600
Availability: Not On Our Shelves—Ships in 1-5 Days
Published: Chronicle Books - March 1st, 2016
---
Toddler Henry runs, wriggles, swings, and jumps through his day. His grandma plays him songs on the piano, his sister tickles his toes, his dad tosses him into the air. But Henry Wants More! (Random House, $17.99) in Linda Ashman's joyful portrait of a biracial, multigenerational family struggling to keep pace with their toddler's boundless energy. The rhyming text makes for a rollicking read-aloud, and young readers will delight in contributing Henry's refrain of "MORE!" Brooke Boynton Hughes's soft, pastel illustrations emphasize the loving undertone of the book, and the family members' expressions, particularly as they tuck Henry in for the night, make evident their adoration in this charming tale. Ages 3-6.

$17.99

ISBN: 9780385385121
Availability: Special Order—Subject to Availability
Published: Random House Books for Young Readers - January 26th, 2016
---
Pages