What could be more whimsical than words, letters, and numbers? Nothing, according to an assortment of new books for young readers highlighting the playfulness inherent in our first experiences of language and counting. Hungry for ABCs? Juana Medina's ABC Pasta: An Entertaining Alphabet (Viking, $17.99) pairs alliterative phrases ("orzo orchestra") with circus-themed illustrations to create a clever and appetizing read. Children will gobble up the pictures' humor: pasta and herbs stand in for beards, zip lines, even a ringmaster's torso. Ages 1-5.

$17.99

ISBN: 9781101999783
Availability: In Stock—Click for Locations
Published: Viking Books for Young Readers - February 7th, 2017
---
Think an alphabet book can't tell a story? David Melling's D Is for Duck! (Kane Miller, $12.99) begs to differ. Magician Duck conjures, in alphabetical order, creatures that propel a zany misadventure rife with humor, dialogue, and action expressed through Melling's jubilant illustrations and only the most essential words. Ages 1-5.

$12.99

ISBN: 9781610675802
Availability: Special Order—Subject to Availability
Published: Kane Miller Books - March 1st, 2017
---
Emily Jenkins's A Greyhound, a Groundhog (Schwartz & Wade, $17.99) similarly digs deep into a few well-chosen words to build a joyful story of interspecies friendship, while Chris Appelhans's watercolors frolic with the text on every page. Together, the circular wordplay and illustrations create a dynamic story that delights the eyes and ears. Ages 1-5.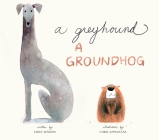 $17.99

ISBN: 9780553498059
Availability: Special Order—Subject to Availability
Published: Schwartz & Wade - January 3rd, 2017
---
Pages