When brothers Tucker and Hudson are given scarves and umbrellas from a neighbor's yard sale, their sleepy final day of summer morphs into a thrilling adventure as they discover that the secondhand items possess superpowers. Tuck convinces Hudson to seize the day and, with the help of a surfer-lingo-speaking squirrel and a time-traveling trunk, they battle cat burglars, aid medieval villagers, train with a dragon, and confront a nemesis corrupted by the temptation of power. Brothers Unite (Dial, $10.99), the first in the Secondhand Heroes graphic novel trilogy by Justin LaRocca Hansen, will appeal to anyone who daydreams about doing heroic deeds. Ages 8-12.

ISBN: 9780803740945
Availability: Hard to Find
Published: Dial Books - July 5th, 2016
---
"What is poetry?" wonders young Daniel upon encountering a sign announcing "poetry in the park." When he asks the animals he knows best, they respond with metaphors highlighting the poetry in nature. Poetry is the crisp crunch of leaves, the sun-kissed sand, and the glistening of the morning dew. Sure enough, Daniel Finds a Poem (Nancy Paulsen, $16.99) to share on Sunday in the park, one that describes all the natural beauty he finds in the middle of a metropolis. Author/illustrator Micha Archer's glowing collage illustrations emphasize this theme, highlighting Spider's web and Chipmunk's acorns against a soft, inviting urban backdrop. With bits of alliteration and loads of sound play, the book is a warm introduction to the beauty of poetry. Ages 3-7.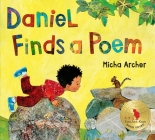 $16.99
ISBN: 9780399169137
Availability: In Stock—Click for Locations
Published: Nancy Paulsen Books - February 16th, 2016
---
Amidst the woods of Heath Cliff, PA, puddles of Fuzzy Mud (Delacorte, $16.99)—a life-threatening mutant byproduct of Biolene, an energy alternative to gasoline—are multiplying. When fifth-grader Tamaya Dhilwaddi hurls the mud at a school bully, she sets off a rapid-fire series of events that extend beyond the bounds of Heath Cliff to include the Centers for Disease Control and Prevention and the U.S. Congress. Told through fast-paced narrative and testimony from secret Senate hearings, Louis Sachar's scientific thriller poses provocative questions and features a cast of characters who grow in empathy and experience. The tale weaves dark speculation with hope, and will intrigue thoughtful readers and action enthusiasts alike. Ages 9-12

$16.99
ISBN: 9780385743785
Availability: Not On Our Shelves—Ships in 1-5 Days
Published: Delacorte Books for Young Readers - August 4th, 2015
---
Pages