At 7 AM, the crocodile's alarm goes off. He slowly gets out of bed, brushes his teeth, chooses the perfect tie, eats his breakfast, and heads out the door. He's a Professional Crocodile (Chronicle, $17.99) and he's off to work with the other city dwellers, hurrying down sidewalks and cramming onto crowded trains. Giovanna Zoboli and Mariachiara Di Giorgio show humans and animals commuting in perfect (and perhaps oblivious) harmony in this wordless picture book that will leave onlookers hunting through the illustrations for hidden faces and familiar scenes that all lead to a chuckle-worthy ending. Ages 4-8.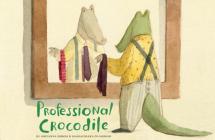 $17.99
ISBN: 9781452165066
Availability: In Stock—Click for Locations
Published: Chronicle Books - August 1st, 2017
---
Imogene has grown up against the unique backdrop of the Florida Renaissance Faire: she's learned the ins and outs of her mother's shoppe and her father's acting role as a heroic knight. Now, Imogene is ready to enter into two new daring chapters of her life: finally becoming a squire to her father's character at the festival, and trading homeschooling for the confusing world of public middle school. After a run-in with the popular crowd, Imogene soon learns that school isn't nearly as easy to navigate as the traditional stories of heroes and villains that have surrounded her since childhood. From Roller Girl author and Newbery Honoree Victoria Jamieson comes All's Faire in Middle School (Dial, $12.99 PB/$20.99 HB), a fast-paced, brightly illustrated graphic novel that every middle grade lad and lass will surely relate to. Ages 9-12.

$12.99
ISBN: 9780525429999
Availability: In Stock—Click for Locations
Published: Dial Books - September 5th, 2017
---
In 1982 at an orphanage named Thornhill (Roaring Brook, $19.99), Mary fills the pages of her diary with shocking accounts of her suffering at the hands of another girl who lives downstairs. Mary only feels safe in her attic bedroom, where she spends her time reading and making puppet companions. Decades later, Ella has just moved to a new home that overlooks the abandoned orphanage. No one has lived there since an orphan girl was murdered years ago—so why does Ella keep seeing a figure in the lit attic window and finding puppets in the garden? Author/illustrator Pam Smy cleverly tells Mary and Ella's stories in alternating journal entries and plot-propelling illustrations until the girls' worlds finally collide in an unexpected and spine-tingling twist. Ages 10-13.

$19.99
ISBN: 9781626726543
Availability: Not On Our Shelves—Ships in 1-5 Days
Published: Roaring Brook Press - August 29th, 2017
---
Pages