New in board book for the tiniest of toes, Whose Shoes? A Shoe for Every Job (Boyds Mill, $7.99) discusses not only the importance of covering feet of all sizes, but the variety of ways to do so as well. What do we wear when we are small? When it's hot outside? Cold? What might our favorite pair look like? After providing several examples, author/photographer Stephen R. Swinburne gives readers a chance to test their footwear knowledge by zooming in on a pair of shoes, then revealing the wearer on the very next page. From ballet slippers to construction boots, there certainly is a shoe for every job. Ages 1-4.

$7.99
ISBN: 9781629796918
Availability: Not On Our Shelves—Ships in 1-5 Days
Published: Boyds Mills Press - September 13th, 2016
---
A cat always walks through the world with whiskers, ears, and paws, but what do different individuals see when they look at it? They All Saw a Cat (Chronicle, $16.99), that's for sure, but what each creature perceives is starkly different. To the child, the cat is smiley, soft, and loving. To the flea, it is hairy and vast. To the mouse, it is enormous, threatening, and terrifying. Brendan Wenzel's simple narrative and unique illustrations, whose colors and patterns shift dramatically with each new set of eyes that gazes upon this fascinating feline, show readers that perhaps perception really is relative. Ages 4-8.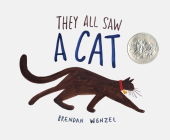 $16.99
ISBN: 9781452150130
Availability: In Stock—Click for Locations
Published: Chronicle Books - August 30th, 2016
---
Lore of Greek gods and tales of the impossible have captured the attention of countless generations of young readers; with his fresh retelling of a classic myth, author/illustrator Robert Byrd offers today's children an exciting new door into this awe-inspiring world. Regarded as one of the earliest recorded chronicles of Greek mythology, the hunt for The Golden Fleece is on and Jason and the Argonauts (Dial, $17.99) set off on an epic journey for the prized Fleece and the reclamation of Jason's throne. Told through vivid narration and detailed illustrations accompanied by informative side panels, Jason's story is one of magic, adventure, and glory and should not be missed. Ages 8-10.

$17.99
ISBN: 9780803741188
Availability: In Stock—Click for Locations
Published: Dial Books - October 11th, 2016
---
Pages