When 16-year-old pyromaniac Iris learns that the father she's never met is dying, it's because her mother has already decided that Iris has to visit him in England in exchange for the possibility of a significant inheritance. It's been 12 years since Iris and Ernest spoke, and Iris has no interest in bonding with a man who, according to her mother, never wanted to be a father. But during his last days, Iris connects with Ernest in a way she never expected—over art, particularly Yves Klein's famous piece Fire Color One (Philomel, $17.99). Moving between the past and the present, Jenny Valentine has skillfully woven a poignant story about truth, redemption, and art against a stark backdrop of family dysfunction. Ages 14-18.

$17.99

ISBN: 9780399546921
Availability: Special Order—Subject to Availability
Published: Philomel Books - January 31st, 2017
---
Overlooking the bustling crowds in Mexico City are two volcanoes, Popocatépetl and Iztaccíhuatl. For generations these two giants have been revered and admired by many, inspiring dozens of myths about their origin. In The Princess and the Warrior: A Tale of Two Volcanoes (Abrams, $16.95), author/illustrator Duncan Tonatiuh recounts one of these ancient stories. The beautiful princess Izta falls in love with brave warrior Popoca because he loves her for who she is, not her position of power. The emperor agrees to give Popoca his daughter's hand in marriage on one condition: he must defeat the kingdom's greatest enemy, Jaguar Claw. But Jaguar Claw tricks the couple, leading them to transform into the volcanoes we see today. This spellbinding story and its Aztec-inspired illustrations will take the reader on a fascinating trip back in time. Ages 5-8.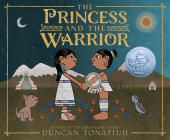 $17.99

ISBN: 9781419721304
Availability: Not On Our Shelves—Ships in 1-5 Days
Published: Abrams Books for Young Readers - September 20th, 2016
---
Following in the tailwinds of Lindbergh (NorthSouth, $19.95), Torben Kuhlmann's latest book shares the story of a mouse with a dream beyond this world: that is, to be the first mouse on the moon. Armed with notes taken from the Smithsonian, the mouse works in secret to design, build, and test his own rocket designs—though not without failures along the way. But each letdown only motivates him more, until he finally succeeds and lands among the stars, paralleling the process human scientists used to accomplish what was once thought impossible. Handsome illustrations in a sepia palette give the story a vintage feel, throwing the reader back in time. Be it in man or mouse, Armstrong: The Adventurous Journey of a Mouse to the Moon (NorthSouth, $19.95) celebrates the power of courage, persistence, and innovation in the name of scientific discovery. Ages 5-8.

$19.95

ISBN: 9780735841673
Availability: Not On Our Shelves—Ships in 1-5 Days
Published: NorthSouth Books - May 1st, 2014
---
Pages