Border Songs is an engaging, satisfying and immensely entertaining story. The appeal stems largely from the novel's main character, Brandon Vanderkool. Brandon is six foot eight, severely dyslexic and has an uncanny affinity for the natural world. Working as a border patrol agent along the U.S. Canada border in Washington state, he indulges his passion for bird-watching while keeping an alert eye to potential terrorists and pot smugglers. The forests and farms of northern Washington are beautifully described and play a key role in the story. It's in this landscape that Brandon's father Norm operates a dairy farm. His struggle to maintain his business and look after his animals is described with unerring detail. The plot's satisfying twists and turns largely focus on industrial marijuana production in British Columbia and its importation into the lower 48, but the most lasting and compelling aspect of Border Songs is the characters–-their originality, vitality, and freshness make this a truly stand-out novel.
Brandon Vanderkool is a gentle giant, a dyslexic border patrol agent working the northern border of Washington and western Canada. More at home in the woods with animals and birds than he is with people, he's a natural tracker but somewhat clumsy with bureaucracy. Border Songs (Knopf, $25.95), by Jim Lynch, tells Brandon's remarkable, eccentric, and ultimately heroic story. After 9/11, the once barely-observed border is heavily monitored by cameras and planes, and cross-border neighbors eye each other warily. Add to this a marijuana-smuggling operation based in British Columbia, and Brandon and his fellow agents have a lot on their hands. With a graceful regard for the natural world and a motley cast of characters, Border Songs is an utterly original and unforgettable novel.

$16.00
ISBN: 9780307456267
Availability: Not On Our Shelves—Ships in 1-5 Days
Published: Vintage - July 13th, 2010
---
An enthralling account of scholarship and adventure, The Sisters Of Sinai (Knopf, $27.95) tells of Agnes and Margaret Smith, wealthy identical Scottish twins. Victorians and devout Calvinists, the pair spent their lives acquiring languages and traveling the Holy Land. With neither husbands nor university degrees, they traveled alone to Saint Catherine's Monastery on Mount Sinai, where they discovered and translated a Syriac palimpsest that remains one of the earliest manuscripts of the New Testament scriptures. Celebrity preachers and cunning dragomen share the pages of this history, the tone of which mimics the formal novelty of Victorian travel adventures in a tongue-in-cheek manner. British scholar and narrator Janet Soskice uses a bevy of letters, close readings of Agnes Smith's (mediocre) novels, and an encyclopedic knowledge of Cambridge to contextualize the twins' discovery (and lives) within the broader climate of Victorian anxiety about Scripture's authenticity and authority.

$17.95
ISBN: 9781400034741
Availability: Not On Our Shelves—Ships in 1-5 Days
Published: Vintage - August 24th, 2010
---
Born of a museum exhibition, Unpacking My Library: Architects and Their Books (Yale Univ., $20) is a delightful appreciation of books and builders. As you flip through this viscerally appealing, yet highly cerebral, volume, what at first seems an unlikely amalgam of subjects and media becomes coherent and important. New York's Urban Center Books visited twelve of today's preeminent architects (Michael Sorkin, Bernard Schumi, Toshiko Mori, Todd Williams, and Billie Tsien among them) to discuss and photograph their libraries. Each architect has compiled a far-reaching top ten list, which is fodder for the interviews; a spread of the "Top 10" covers accompanies precisely annotated photographs of the libraries, and close-up views of select shelves. Edited by Jo Steffens, this book of profiles is titled after a Walter Benjamin essay, which is included as a preface. Benjamin—and each of these architects—meditates on the essence of the book collector and our relationship to these objects.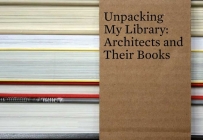 $22.00
ISBN: 9780300158939
Availability: Backordered
Published: Yale University Press - November 30th, 2009
---
Pages