First published in 1990, the popular kitchen reference, The Deluxe Food Lover's Companion (Barron's $29.99), by Sharon and Ron Herbst, has been updated to reflect the global ingredients that have entered our cuisine in the last decades. I could easily find the thick and sweet Indonesian soy sauce I was looking for (kecap) as well as the popular Southeast Asian seafood sauce (sri racha) in the glossary of sauces and stocks. With apple pies on deck for the holidays, I at last have a three-page summary of the differences between all those apples at Whole Foods; ditto, the olive oils and the cheeses. There's a potful of information here for all aspiring kitchen Quiz Kids.

$29.99
ISBN: 9780764167034
Availability: Special Order—Subject to Availability
Published: B.E.S. - April 1st, 2015
---
Chefs, foodies, and Italophiles will treasure Elena Kostioukovitch's Why Italians Love To Talk About Food (Farrar Straus & Giroux, $35). This masterful tome is a culinary encyclopedia and travelogue—a chronicle of Italy's regional cuisines. In each chapter, Kostioukovitch introduces a region and explores the foods that define it. We learn about Piedmontese truffles, Neapolitan mozzarella di bufala, and the Roman Jews' unique relationship to eggplant. Cuisine is a "code that pervades all of Italy," Kostioukovitch writes, and discussing it "means celebrating a rite, uttering a magic formula." Gorgeous photos and mouthwatering sample menus round out this literary feast.

ISBN: 9780374289942
Availability: Hard to Find
Published: Farrar Straus Giroux - October 13th, 2009
---

$18.00
ISBN: 9780374532536
Availability: Special Order—Subject to Availability
Published: Farrar, Straus and Giroux - November 23rd, 2010
---
Slow: Life In A Tuscan Town (Welcome Books, $50), by Douglas Gayeton, is a work of art. After moving to the village of Pistoia, Gayeton began to document the local residents and their intimate, ancient traditions of growing, preparing, and enjoying food. The stunning sepia-toned photos alone are worth the price tag, but Gayeton's commentary makes this book exceptional. His whimsical, elegant observations—ingeniously incorporated into or on each photograph—elevate Slow into something far more than a coffee table decoration. The title is apt: you'll want to slow down and savor each image.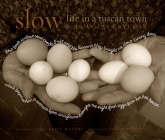 $50.00
ISBN: 9781599620725
Availability: Special Order—Subject to Availability
Published: Welcome Books - September 29th, 2009
---
Pages