Linda Gordon has written a wonderful biography of Dorothea Lange (W.W. Norton, $35), who transformed herself from a privileged socialite into the famous Depression-era photographer. Lange began her career as a society photographer in San Francisco, but the election of Franklin Roosevelt as president stimulated in her a passion for grassroots activism and a desire to integrate her work as an artist with her political convictions. Portraiture gave way to documentary photography; Lange started with Mexican farm workers and soon was making pictures of the impoverished refugees who arrived daily in California from the Oklahoma dust bowl. In doing so, she quarreled with Ansel Adams, who believed that a photographer's emotions should not influence the photography. Over 100 of Lange's photos accompany this absorbing chronicle of a well-developed life.

ISBN: 9780393339055
Availability: Special Order—Subject to Availability
Published: W. W. Norton & Company - October 11th, 2010
---
I knew Frances Perkins as the Secretary of Labor to Franklin Roosevelt. This biography of her by Kirstin Downey, The Woman Behind The New Deal (Nan A. Talese, $35), fills out the portrait of an exceptional and gifted woman, describing her friendships with other luminaries of the period, like Robert Moses and Sinclair Lewis; her marriage and motherhood; her long political career, and even her continued public service after Roosevelt's death. But of course, it is her years building the New Deal that are most interesting. Almost all of the legislation on social and economic support emanates or was helped along by Frances Perkins. When she wrote a letter of resignation to FDR after his fourth election, she listed her accomplishments: among the programs, agencies and legislation she helped to promulgate were the Civilian Conservation Corps, the Public Works Administration, the NRA and the Fair Labor Standards Act. She strengthened the U.S. Conciliation Service, which dealt with strikes, and converted the Bureau of Labor Statistics into a "trusted source of information."

$18.00
ISBN: 9781400078561
Availability: In Stock—Click for Locations
Published: Anchor - February 23rd, 2010
---
As everybody now knows, 2009 marked the 200th anniversary of the births of Abraham Lincoln and Charles Darwin. A coincidence, yes, but one that, teased out, can teach us something, as Adam Gopnik shows in Angels And Ages (Knopf, $24.95). Just when you think there is nothing more to say about either of these two founders of the modern world, Gopnik, in his inimitable way, shows us some intriguing links between the two men. Both were great communicators and their mastery of rhetoric was a key to the spread of their ideas. Gopnik is a graceful narrator, and the book makes a good introduction to both the statesman and the scientist.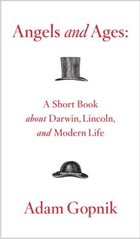 ISBN: 9780307270788
Availability: Special Order—Subject to Availability
Published: Knopf - January 27th, 2009
---

$16.00
ISBN: 9780307455307
Availability: Not On Our Shelves—Ships in 1-5 Days
Published: Vintage - February 9th, 2010
---
Pages