Photographs often serve as the main link between a president and the public. Images burn into our collective memory and become part of history. The companion book to the National Geographic special, THE PRESIDENT'S PHOTOGRAPHER (National Geographic, $35) presents images by the nine men who have captured historic events and private moments in the lives of the presidents from Kennedy (who hired Cecil Stoughton as the first professional White House photographer) through Obama. Complementing images both iconic and intimate, John Bredar has conducted personal interviews with the five living presidential photographers for this stunning, behind-the-scenes peek at the life and work of the presidents.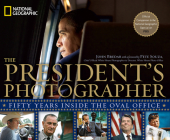 $35.00
ISBN: 9781426206764
Availability: Special Order—Subject to Availability
Published: National Geographic - November 2nd, 2010
---
A historian and a photographer from a family of photographers, Deborah Willis is one of the foremost authorities on African-American photography. In her new volume, Posing Beauty: African-American Images, 1890s to the Present (W.W. Norton, $49.95), she explores the concept of black beauty and how it has been presented in the past century. The book's first portraits show how careful photographers were to pose their subjects in dignified ways, to counter stereotypical images fostered by Jim Crow laws and minstrel shows. As society changed, the images reflected that, first in ads for goods directed at black consumers, and then in representations of beauty, as blacks entered beauty pageants and become models for magazines like Ebony and Jet. When black photographers offered new images, eventually the larger society followed and began to change their portrayals of the black community, as can be seen in work by white photographers like Eve Arnold, Gary Winogrand, and Annie Leibovitz—though that doesn't mean they erased all the stereotypes.

$49.95
ISBN: 9780393066968
Availability: Not On Our Shelves—Ships in 1-5 Days
Published: W. W. Norton & Company - October 5th, 2009
---
Roberto Koch's Photo Box (Abrams, $29.95) is a collection of photography that ranges from contemporary work one might see in the Hirshhorn Museum to antiquated pieces from the earliest days of the medium. The collection moves through groupings of photos by subject rather than chronologically, a choice that neatly and cleverly defines the boundaries of each genre. I spent more time with this book than I expected, reflecting on iconic photos, such as a Joe Rosenthal's "Raising the Flag on Iwo Jima," and less culturally celebrated portraits, like Lauren Greenfield's "Girl Culture." The power of Photo Box lies in the multiple viewpoints (it presents more than 200 different pictures) rather than offering a traditional compendium of photography structured by era or movement.
Pages