Humans of New York is the brainchild of Brandon Stanton, who set out to create a photographic census of New York City. Originally a photo blog, the project now boasts its first eponymous printed collection of street portraits. The idea is simple: Stanton approaches strangers on the street, takes their photo, and occasionally asks them a question, like, "What was the happiest moment in your life?" Yet Humans of New York (St. Martin's, $29.99) is more than a simple collection of snapshots. Even without captions, each photograph tells a short story and gives the viewer a glimpse into the life of a stranger. Taken together, these four-hundred arresting and inspiring street portraits form a celebration of humanity in all its diversity and quirkiness.

$29.99
ISBN: 9781250038821
Availability: Not On Our Shelves—Ships in 1-5 Days
Published: St. Martin's Press - October 15th, 2013
---
No matter how you feel about "heroin chic" or her personal life, there is little question that Kate Moss has had an unparalleled modeling career. Kate: The Kate Moss Book (Rizzoli, $85) is a comprehensive collection of images that spans two decades and includes never-before-seen photographs from Moss's own archives. The close collaboration of Moss and her editors, three luminaries of the fashion world, Fabien Baron, Jess Hallett, and Jefferson Hack, has resulted in a book that is as beautiful as it is personal. A friend once said to me, "whatever Kate Moss is selling, I'm buying." My recommendation? Follow my friend's advice and buy this amazing book about a truly stunning woman.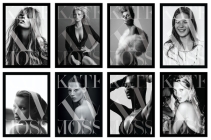 $95.00
ISBN: 9780847837908
Availability: Backordered
Published: Rizzoli - November 6th, 2012
---
A Richard Avedon portrait is instantly recognizable; as a fashion photographer and as a chronicler of political and cultural figures, he had few peers. Avedon: Murals & Portraits (Gagosian/Abrams, $100) centers on four gigantic works (from 20 to 35 feet wide) created between 1969 and 1971. Each is a charged subject: The Chicago Seven; the members of the Mission Council in Saigon—"the eleven men who ran the Vietnam War"; Andy Warhol and the film stars of his Factory; and the extended Allen Ginsberg family (including father, poet Louis Ginsberg). The oversize, beautifully produced catalog includes working prints, magazine layouts, contact prints, and four-paneled foldouts of the murals. Informative essays by historian Louis Menand, journalist William Shawcross, Corcoran curator Paul Roth, and Ginsberg authority Bob Rubin add vital contextual contributions, and photo-historian Mary Panzer's essay, "State of Emergency," immerses you in Avedon's work in the 1960s and 1970s.

$100.00
ISBN: 9781419705632
Availability: Special Order—Subject to Availability
Published: Harry N. Abrams - June 1st, 2012
---
Pages