The stunning photos of Carleton Watkins (University of California, $34.95) are even more amazing once you know that to get these iconic shots of Yosemite, Mt Shasta, and other natural wonders, he had to hike long distances uphill, negotiate rugged ground, perch on cliff-edges, and face all kinds of weather—all while toting hundreds of pounds of fragile equipment. As intrepid as his subject, Tyler Green pursues every lead to flesh out the life of this great 19th-century American photographer. Deprived of documents and glass plate negatives by the 1906 San Francisco earthquake, Tyler recounts Watkins's life through the remaining hundreds of photos and through records kept by famous friends, such as John Muir. Green puts the work in larger contexts as well, showing how Watkins's focus on landscape for its own sake echoed Emerson's thinking about nature and fostered evolving notions of conservation and national parks and how he helped inform scientists about the botany and geology of the west. Finally, Tyler makes Watkins key to the nation's idea of itself; showing Easterners the West, he shaped popular ideas of what "America" was, wasn't, and could be.

$34.95
ISBN: 9780520287983
Availability: Not On Our Shelves—Ships in 1-5 Days
Published: University of California Press - October 16th, 2018
---
Perhaps the foremost literary portrait photographer working today, Beowulf Sheehan is known for the beauty, nuance, and insight of his haunting compositions. His eagerly awaited first book, Author (Black Dog & Leventhal, $40), presents two hundred of his finest portraits of prominent writers, playwrights, historians, journalists, and poets such as Roxane Gay, Patti Smith, Masha Gessen, Karl Ove Knausgaard, and J.K. Rowling. Working in both color and black-and-white, Sheehan created these images in a variety of settings—the photographer's studio, the subject's home, concert halls, public spaces—and all bring out new facets of figures we've grown to know and love through their words. Sheehan introduces the volume with an essay recalling some of his most memorable moments with the amazing people he's photographed.

$40.00
ISBN: 9780316515153
Availability: Special Order—Subject to Availability
Published: Black Dog & Leventhal - October 9th, 2018
---
As the official White House photographer, Pete Souza spent countless hours during eight years with President Barack Obama. He captured the famous Situation Room meeting in which Obama, surrounded by senior national security aides, monitored the raid that resulted in the death of Osama bin Laden. And he caught the president in many lighter times as well, whether with children, friends, or family members. In all, Souza took nearly two million photos. Obama: An Intimate Portrait (Little, Brown, $50) reproduces 300 of the most representative ones, documenting consequential moments of decision and official action alongside numerous less scripted occasions. The result is an historic photographic record of a landmark presidency and an intimate portrait of a man who occupied America's most powerful office.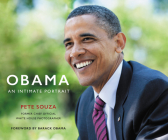 $50.00
ISBN: 9780316512589
Availability: In Stock—Click for Locations
Published: Little, Brown and Company - November 7th, 2017
---
Pages