A testament to a child's ability to find joy and enchantment even in the midst of grief, When Mischief Came to Town (Houghton Mifflin Harcourt, $16.99) is a modern-day classic. Ten-year-old Inge, recently orphaned, goes to live with her grandmother in a tiny island village far from her Copenhagen home. Grandmother Dizzy, alas, is a strict and stoic rule-enforcer; Inge has a dear heart, but her hands and emotions continue to cause her mischief. Maybe, though—just maybe—mischief is exactly what this village needs. Katrina Nannestad has woven a touching tale of what happens when we open our hearts to those around us. Ages 8-11.

$16.99
ISBN: 9780544534322
Availability: Special Order—Subject to Availability
Published: HMH Books for Young Readers - January 5th, 2016
---
Henry Denton's got problems. The entire school calls him Space Boy. Aliens have been abducting him regularly since he was thirteen. He is bullied. Last year his boyfriend, the love of his life, committed suicide. His father left the family and his mother is struggling to keep it together. His college-dropout brother has gotten his girlfriend pregnant and his Nana's memories are slowly slipping away. If you were Henry and given the chance to save the world, would you even bother? Author Shaun David Hutchinson offers a darkly humorous yet heartfelt examination of what, if anything, makes life worthwhile in We Are the Ants (Simon Pulse, $17.99). It all boils down to one question: before Henry can save the world, will he be able to save himself? Ages 14-18.

$19.99
ISBN: 9781481449632
Availability: Not On Our Shelves—Ships in 1-5 Days
Published: Simon & Schuster Books for Young Readers - January 19th, 2016
---
Author and photographer Shelley Rotner takes readers on a scientific voyage of discovery of our fellow creatures and ourselves— based solely on eyes! In Whose Eye Am I? (Holiday House, $16.95), readers are challenged to identify animals using only a close-up photo of their eyes. Once an animal's identity is revealed— be it a mammal, bird, fish, insect, or something else entirely— Rotner provides a plethora of fun facts about each creature's visual abilities that will intrigue and delight budding zoologists. A description of how humans see, and an accompanying diagram of a human eye, ensure that we aren't left out of this ophthalmic adventure. Ages 5-9.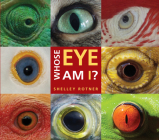 $16.95
ISBN: 9780823435586
Availability: Special Order—Subject to Availability
Published: Holiday House - January 30th, 2016
---
Pages