Join a boy in a red hoodie and his white dog on a walk as the sun begins to set. They stroll through their neighborhood as Windows (Candlewick, $15.99) light their way, each presenting a glimpse into other people's lives, each with a different story. In her picture-book debut, illustrator E.B. Goodale presents a familiar town in detailed, luminous watercolors that show everyday hustle and bustle in a new light. Julia Denos's lyrical text follows the child and dog as they explore their town and eventually return home, where "someone you love is waving at you." Ages 4-7.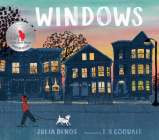 $15.99
ISBN: 9780763690359
Availability: In Stock—Click for Locations
Published: Candlewick - October 17th, 2017
---
When we meet Rapunzel (Peachtree, $16.95) in author/illustrator Bethan Woollvin's retelling, she's already imprisoned in her tower. Her long, yellow tresses are the only way up and down just as in the original tale, but here, her witch captor is the only one who uses this curious ladder. There's no prince in sight, but no matter; he's clearly not needed. Strong black lines and snappy text demonstrate that this Rapunzel is clever, resourceful, and creative. She figures out how to escape the tower and get rid of her jailor. Simple, bold illustrations accented by the bright yellow of Rapunzel's long, swirling hair depict the shrewd girl and an unsympathetic witch. Children and adults familiar with the more traditional tale will appreciate this Rapunzel's take-charge approach. Ages 4-8.

$16.95
ISBN: 9781682630037
Availability: In Stock—Click for Locations
Published: Peachtree Publishers - October 1st, 2017
---
In 1942, as India struggles for freedom from British rule, Mohandas (Mahatma) Gandhi asks one family member from each family to join Ahimsa (Tu/Lee & Low, $18.95), the non-violent resistance to British governance. Ten-year old Anjali fears that her father will join, and is blindsided when it's her mother who becomes an activist. As her mother reaches out to the Dalit community, the caste system's untouchables, Anjali is initially shocked but soon comes to question her own biases. Inspired by her great-grandmother's experiences, debut author Supriya Kelkar presents an accessible and eerily timely exploration of what social justice really means. Ages 10-12.

$18.95
ISBN: 9781620143568
Availability: In Stock—Click for Locations
Published: Tu Books - October 1st, 2017
---
Pages