Steven Universe is my personal favorite cartoon to come out of the US in years, and this is the best possible tribute to it. Not just a collection of sketches, but also storyboards, interviews, backgrounds, setting details...a true gift not just to fans of the show, but to fans of animation period. Featuring a cameo from P&P employee Frans Boukas!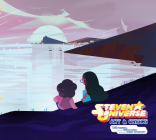 $29.95
ISBN: 9781419724435
Availability: Not On Our Shelves—Ships in 1-5 Days
Published: Abrams - July 11th, 2017
---
Imagine if Neil Gaiman wrote a book, but one with new, vibrant ideas about parenthood, race, technology and the dangers of toxic masculinity in the present day? The Changeling is better than whichever book that would be. It's a horror story about the curses we inherit from our parents and inflict on our families, a modern fairy tale in the truest sense of the word.

$28.00
ISBN: 9780812995947
Availability: Special Order—Subject to Availability
Published: Spiegel & Grau - June 13th, 2017
---
You hear all the time about good books, great books, fun books, but it's rarer that one comes down the pipe that is the product of certified genius. Emil Ferris's My Favorite Thing is Monsters mashes together pulp horror, fine art, and notebook doodles, the tangled stories of a Chicago neighborhood and the horrors of World War II. Like the ten-year-old heroine at its center, I guarantee you won't see another book as committed to being its wild, monstrous self as this one.

$39.99
ISBN: 9781606999592
Availability: In Stock—Click for Locations
Published: Fantagraphics - February 14th, 2017
---
Pages