Chris Ware's new collection, Monograph by Chris Ware (Rizzoli, $60), assembles countless strips, pages, magazine covers, sculptures, photographs, and other things into a thorough and astoundingly generous retrospective of the artist's career. It comes replete with commentary written by Ware himself, who charts his path from RAW to Jimmy Corrigan to Building Stories and beyond. Reading this book is like touring the interior of a vast and seemingly impossible mechanism carved from space metal, while your tour guide chats amiably and bemoans the lack of carpets. There are also individual booklets within the book that you can flip through, and several of his New Yorker covers depicted in their full glory. For any fan of the cartoonist, this is probably the single best purchase you could make this holiday, a blueprint for everything Ware has done over the past few decades. But for artists, this is something even better: Chris Ware opens the door backstage, shows you how he performs the magic tricks, and then gives you a chance to do it yourself.

$60.00
ISBN: 9780847860883
Availability: Not On Our Shelves—Ships in 1-5 Days
Published: Rizzoli - October 17th, 2017
---
Originally published on image sharing site pixiv, My Lesbian Experience with Loneliness swiftly became an underground success. Now in English, you too can thrill to the adventures of its heroine, who hires a call girl in an attempt to fight back against a debilitating quarter-life crisis. If you've ever dealt with anxiety, queerness, loneliness, bulimia, crappy jobs, fear of sex, fear of abandonment, or parents, there will be something in this book for you.

$13.99
ISBN: 9781626926035
Availability: In Stock—Click for Locations
Published: Seven Seas - June 6th, 2017
---
Steven Universe is my personal favorite cartoon to come out of the US in years, and this is the best possible tribute to it. Not just a collection of sketches, but also storyboards, interviews, backgrounds, setting details...a true gift not just to fans of the show, but to fans of animation period. Featuring a cameo from P&P employee Frans Boukas!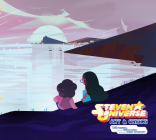 $29.95
ISBN: 9781419724435
Availability: Not On Our Shelves—Ships in 1-5 Days
Published: Harry N. Abrams - July 11th, 2017
---
Pages