Open Schomburg: The Man Who Built a Library (Candlewick, $16.99) by Carol Boston Weatherford and discover a world of scholars, poets, and artists of African descent whom other history books may have failed to recognize. Award-winning illustrator Eric Velasquez places you in the room with bibliophile Arturo Schomburg as well as the luminaries he studied, from Toussaint Louverture and Alexandre Dumas to Countee Cullen and Langston Hughes.

$17.99
ISBN: 9780763680466
Availability: Not On Our Shelves—Ships in 1-5 Days
Published: Candlewick - September 12th, 2017
---
Look closely at the Statue of Liberty—especially Her Right Foot (Chronicle, $19.99): "She is going somewhere! She is on the move!" In his casual, conversational style, Dave Eggers takes readers on a journey from France to New York and introduces us to little-known facts about this iconic symbol. Artist Shawn Harris uses cut paper and India ink to illustrate the story, drawing our attention to the details as Eggers asks us to pause, think, and discuss along the way.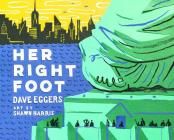 $19.99
ISBN: 9781452162812
Availability: In Stock—Click for Locations
Published: Chronicle Books - September 19th, 2017
---
A debut for both author Xelena González and illustrator Adriana M. Garcia, All Around Us (Cinco Puntos, $17.95) is a masterful blend of art and story. The muted tones and circular designs provide a reflective backdrop to a young girl and her Grandpa going about their daily activities. As the two walk, bike, and garden together, the girl learns that she, too, is part of life's continuing cycle.

$17.95
ISBN: 9781941026762
Availability: In Stock—Click for Locations
Published: Cinco Puntos Press - October 17th, 2017
---
Pages