As the daughter of Harry Hopkins, President Franklin D. Roosevelt's chief advisor, ten-year-old Diana finds herself living in the White House in the thick of World War II. A creative and spunky child, Diana is determined to contribute to the war effort. She finally gets her opportunity when FDR calls on Americans to grow their own food. Based on a true story, Diana's White House Garden (Viking, $17.99) celebrates the spirit of American ingenuity, resiliency, and patriotism. Elisa Carbone's lively and humorous text pairs with Jen Hill's delightful illustrations to create an accessible and inspiring portrait of the times. Ages 5-8.

$17.99
ISBN: 9780670016495
Availability: Not On Our Shelves—Ships in 1-5 Days
Published: Viking Books for Young Readers - May 3rd, 2016
---
A novel twist on the classic alphabet book, Alpha Bravo Charlie: The Complete Book of Nautical Codes (Phaidon, $19.95) not only gives young readers a way to practice their letters, but several new ways to communicate them— in code! Sara Gillingham introduces us to the International Code of Signals, which pairs each letter with a boldly patterned flag so that sailors around the world can communicate across long stretches of ocean. Semaphore and Morse code are also included. Bright, clear illustrations make this a great way to hook kids on the alphabet, from Alpha to Zulu. Ages 5-7.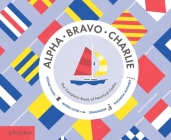 $19.95
ISBN: 9780714871431
Availability: In Stock—Click for Locations
Published: Phaidon Press - May 23rd, 2016
---
A wonderful tribute to the iconic American jazz musician, Just a Lucky So and So (Holiday House, $16.95) offers a glimpse into the childhood of Louis Armstrong. Nicknamed Satchelmouth, Armstrong grew up in a section of New Orleans called The Battlefield. Though poor, he was surrounded by a loving family and local musicians whom he idolized. When a series of scrapes with police landed him in a boys' home, Armstrong overcame the separation, devoted himself to music, and returned to his neighborhood as a musical dynamo. Lesa Cline-Ransome's lilting, musical text is accompanied by James Ransome's magnificent watercolor-and-pencil illustrations. Ages 5-8.

$16.95
ISBN: 9780823434282
Availability: In Stock—Click for Locations
Published: Holiday House - February 27th, 2016
---
Pages