You start with one school day in 1970s Omaha, and a universe of quotidian tragedies expands from there. Interlocking narratives bring preteen social rejects, high school bullies, and teachers of varying levels of honor from youth to maturity and beyond. And all in the unmistakable style of Chris Ware: graphic panels to be read with the same care as the greatest traditional prose, exploding the depicted mundanities into cubist journeys toward the past, the future, and the imagination. (See the throwback Martian sci-fi narrative in the middle of the book for just one example.) Few comics artists command Ware's widespread respect, from audiences with only glancing interest in the form to those most steeped in its history as both "low" and "high" art. Rusty Brown (Pantheon, $35) is the first volume of a magnum opus, compiling pieces Ware has been slowly releasing since first beginning the project in 2001, immediately following publication of his breakthrough Jimmy Corrigan. That protracted timespan sits profoundly on each page, where every frame, whether immense or miniature, feels like a home — maybe not the home his characters would always want, but the one they've come to accept for themselves all the same.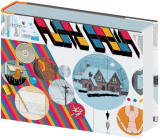 $35.00

ISBN: 9780375424328
Availability: In Stock—Click for Locations
Published: Pantheon - September 24th, 2019
---
Few are the writers who can turn their hand to anything, while still maintaining a consistent, vibrant voice. For over three decades, French author Emmanuel Carrère has been one of that group; this new collection of nonfiction written between 1990 and the present, 97,196 Words (Farrar, Straus and Giroux, $28), offers longtime readers a wonderful retrospective, while new readers will find it the perfect point of entry. Blending the rich storytelling of a novelist with the insight of a nonfiction writer, Carrère here, as elsewhere in his work, blurs the lines between the genres as he ranges from reflections on shifty writers like Truman Capote and Philip K. Dick, to heightened self-analysis brought to bear on interviews with Catherine Deneuve, from relationship columns for an Italian women's magazine to empathetic crime narratives where the culprits have invented fake lives for themselves. And his profiles of where current-day political energy rests, with an eye on Davos and Macron and Russian dissidents, are potent, considered primers. But it's always the storytelling that's the key: reading Carrère is pure, alive pleasure.

$28.00

ISBN: 9780374178208
Availability: Special Order—Subject to Availability
Published: Farrar, Straus and Giroux - November 5th, 2019
---
To reduce an irreducible book, this is a set of linked essays around breast cancer: the author's own, those of figures like Susan Sontag and Audre Lorde, and those of the pseudonymous Internet posters. You'll laugh, you'll cry, but mostly you'll think, not least about why some things might make you laugh and cry instead of others. And none are better at infusing that deep thought into their vocabulary and syntax than Anne Boyer. It's the kind of book where certain passages hit so hard, you have to step back for a second to feel your basest-level reasoning alter, about the cancer-care marketplace and much beyond. For someone writing so eloquently about oncologically-induced exhaustion, Boyer's is the most alert writing of the year.

$26.00

ISBN: 9780374279349
Availability: Not On Our Shelves—Ships in 1-5 Days
Published: Farrar, Straus and Giroux - September 17th, 2019
---
Pages