Electrifying in its vivid clarity, Hard Art, DC 1979 presents Pulitzer Prize-winning photojournalist Lucian Perkins, as he captures the spirit and excitement of the primordial state of DC hardcore. Spanning four DC hardcore punk shows in the fall and winter of 1979, Perkins illuminates legendary performances by Trenchmouth and the Bad Brains through luscious black and white photography. Equally representative of the era's performers and burgeoning communities as it is of its fashion and fans, the intimacy of Perkins' photos offer more than just your typical concert snapshot. Presented with essays by DC natives Henry Rollins (S.O.A., Black Flag) and Alec MacKaye (The Untouchables, The Faith), the book foregoes the pitfalls of nostalgia, offering compelling commentary and analysis on the formative stage of DC punk and its relation to the world today. This book is a must-have for any fan of hardcore/punk history!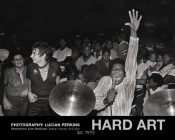 $31.95

ISBN: 9781617751677
Availability: Special Order—Subject to Availability
Published: Akashic Books - June 4th, 2013
---
Names for the Sea is a vivid and honest read about Sarah Moss's family's one year stay in post-kreppa (crisis) Iceland. With two children, Sarah learns to make ends meet in a society that does not deal in secondhand goods. She walks and cycles on roads that are not made for pedestrians. The family lives in a habitable but abandoned development. She meets and talks with people who rarely have much experience interacting with strangers. Moss is an astute observer of the tiny Icelandic society, and Names for the Sea is a candid account of her year in Iceland that will make you want to buy a plane ticket and travel to Iceland immediately after turning the last page.

$17.95

ISBN: 9781619021228
Availability: Special Order—Subject to Availability
Published: Counterpoint LLC - May 14th, 2013
---
This unique and lively political history by the Washington historian and journalist James Srodes focuses on half a dozen young professionals born in the late 19th century who lived near one another On Dupont Circle (Counterpoint, $26). The group included Felix Frankfurter, Walter Lippmann, and the three Dulles siblings, John Foster, Allen, and Eleanor, all of whom would become prominent in their respective fields—as would Franklin and Eleanor Roosevelt, who also moved into the neighborhood in the pre-World War I era. Early progressives, their idealism fueled their efforts to create a better world. And if Roosevelt was disappointed by the compromises of the Treaty of Versailles, Srodes shows that these remarkable individuals' unflagging belief in humanity is a legacy still very much alive today.

$26.00

ISBN: 9781582437163
Availability: Special Order—Subject to Availability
Published: Counterpoint LLC - August 7th, 2012
---

$16.95

ISBN: 9781619021655
Availability: Special Order—Subject to Availability
Published: Counterpoint LLC - July 16th, 2013
---
Pages