I was having a particularly stressful few weeks so I picked up LAW OF ATTRACTION (Touchstone, $25), by Allison Leotta, hoping it would provide that special kind of reprieve from life's problems that only a good mystery can. Thankfully, it did not disappoint. Set here in Washington, the engrossing tale Leotta tells focuses on a young prosecutor who finds herself involved (in many different ways) in a difficult homicide case. A first-time author, Leotta already excels at keeping the action going at a pace that will compel you to keep turning pages long after you should be asleep. There are plenty of local references to make you feel as though you are part of the story, and that the characters are people you know.

ISBN: 9781476716053
Availability: Hard to Find
Published: Gallery Books - May 6th, 2014
---
Sometimes living in the city makes it easy to forget there's a larger world filled with natural beauty and wonder. Books can take us away to those strange and exotic places when we cannot get there any other way. Open GREAT MIGRATIONS (National Geographic, $35) and get swept up in the natural world. Red crabs rush to the ocean, white-eared kob race across the savannah and sockeye salmon frantically swim upstream. Although they face incredible odds, creatures of all kinds are compelled to migrate to ensure their survival. The National Geographic has always been known for stunning photography, and this album, edited by Karen Kostyal, is full of fantastic pictures of animals, insects, fish, and a few crustaceans.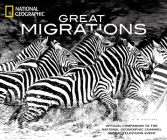 $35.00
ISBN: 9781426206443
Availability: Special Order—Subject to Availability
Published: National Geographic - October 12th, 2010
---
It's 1:00 a.m. and I have to be up early, but I am still reading this book, I CAN'T PUT IT DOWN! What is wrong with me? I don't want to do anything but read The Passage (Ballantine, $25) by Justin Cronin. I don't want to go out, I don't want to go to work, I don't want to sleep. If you think you don't like horror fiction, think again--I guarantee that once you read the first few pages of this book you, too, will be hooked. Cronin's is a story about a virus the army hopes will turn soldiers into super-weapons. The only problem is that, once infected, humans become super-scary, bloodsucking creatures. When the American population is exposed to and then ravaged by the virus, only small enclaves of people survive. The tale of how these survivors go on is utterly enthralling, adventurous, creepy, and exciting.

$28.00
ISBN: 9780345504968
Availability: Not On Our Shelves—Ships in 1-5 Days
Published: Ballantine Books - June 8th, 2010
---

$18.00
ISBN: 9780345504975
Availability: Not On Our Shelves—Ships in 1-5 Days
Published: Ballantine Books - May 17th, 2011
---
Pages