Fairyland series author Catherynne M. Valente takes inspiration from a classic source in her newest tale, reimagining fantasy stories written by the legendary Brontë sisters (and their rather less industrious brother, Branwell) in their childhood. Just as the teenaged Emily and Charlotte are about say farewell to Anne and Branwell before being shipped off to boarding school, all four siblings instead find themselves transported to their own imaginary world. Now they must all play The Glass Town Game (Margaret K. McElderry, $17.99) to perfection in order to return home. Absurdities such as Napoleon riding a rooster are sprinkled throughout the text, a risky gambit that Valente pulls off with characteristic aplomb. Ages 11-14.

$17.99
ISBN: 9781481476966
Availability: Not On Our Shelves—Ships in 1-5 Days
Published: Margaret K. McElderry Books - September 5th, 2017
---
Giant battle robots, characters with tragic pasts, forbidden romances, and a dystopian future Korea: one might be forgiven for thinking that no novel could ever cohesively tell a story that included all these elements. Luckily for sci fi fans everywhere, debut novelist Axie Oh has proven herself more than equal to the challenge. Set in 2199 amidst a decades-long war in which young orphans are trained to be supersoldiers, Rebel Seoul (Tu, $19.95) is a spellbinding rollercoaster ride of a novel. Ages 14-17.

$19.95
ISBN: 9781620142998
Availability: Not On Our Shelves—Ships in 1-5 Days
Published: Tu Books - September 14th, 2017
---
A young boy's dip into a pool occasions a meditation on the many ways things can get Wet (Henry Holt, $16.99). He illustrates one technique for accomplishing this as he does a cannonball and sprays his friends with pool water. Playground slides and benches, goldfish, and school floors: there's water everywhere he looks! Carey Sookocheff's muted color palette and simple figures render the world as a child might see it. This is the perfect book to cozy up with on a summer afternoon. Ages 4-8.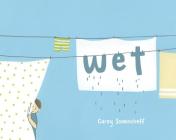 $16.99
ISBN: 9781627797757
Availability: Special Order—Subject to Availability
Published: Henry Holt and Co. (BYR) - June 20th, 2017
---
Pages