Larry McMurtry has always been ambivalent about the success of the fiction in which he portrays the cowboy myth and the rugged Texas machismo that comes with it, but as you read the three novels collected in Thalia: A Texas Trilogy (Liveright, $29.95) you won't be of two minds. Actually, upon learning that McMurtry wrote all these books in his twenties and that they were the very first three he wrote, you'll be burning with envy. In Horseman, Pass By, McMurtry sets Lonnie Bannon with his love of his Granddad's ranch and way of life against Hud, his step-brother, who is endlessly crude and cruel. At the center of Leaving Cheyenne are Gid, Johnny, and Molly, a rancher, his cowboy hand, and the woman they both love. They each take a turn telling the story of their unconventional lives in small-town Texas. Finally, there's The Last Picture Show, in which we see Thalia as a dead-end place. Of the three, this is perhaps the most darkly comic, as nearly every character engages in self-deception in order to eke out an existence in a town where every day is the same. Amid the fantastic and perhaps unbelievably melodramatic events, McMurtry finds a bottomless well of compassion for his characters. This is one time capsule was worth re-opening.

$29.95

ISBN: 9781631493751
Availability: Not On Our Shelves—Ships in 1-5 Days
Published: Liveright - September 19th, 2017
---
"History has failed us, but no matter." When a writer opens her second novel with a sardonic statement like that, you hope that she's up to the task of making it stick. Have no fear, Min Jin Lee is. Starting in the early 20th century, Pachinko (Grand Central, $27) chronicles the fortunes of a Korean family, first in a Korea under Japanese occupation, then as immigrants in Japan. The pachinko parlor that the family runs while in Japan is a perfect symbol of the kinds of hardships Korean immigrants in Japan face. The gambling establishment is their road to a better life. In fact, it's the only such road. Perhaps this gives you the impression that the novel is only good as social commentary, its characters puppets. Actually, the reverse of is closer to the truth. It's as if Lee started with the minutest details of her characters' lives and the commentary grew out of it organically. When she observes how quickly Yangjin and Sunja have to get over Hoonie's death, "At his burial, Yangjin and her daughter were inconsolable. The next morning, the young widow rose from her pallet and returned to work," you feel the hardscrabble life of a Korean peasant all the more. One reviewer has aptly compared Lee to Thomas Mann. This is one book you can lose yourself in.

$28.00

ISBN: 9781455563937
Availability: Not On Our Shelves—Ships in 1-5 Days
Published: Grand Central Publishing - February 7th, 2017
---

$16.99

ISBN: 9781455563920
Availability: In Stock—Click for Locations
Published: Grand Central Publishing - November 14th, 2017
---
From the opening page of The Little Red Cat Who Ran Away and Learned His ABC's (the Hard Way) (Little, Brown, $17.99), it's clear that readers are in for a wild adventure. As the titular cat runs out the door, he encounters an alligator, then a bear, then a chicken: with each successive creature, the daring feline moves one letter further along in the alphabet. This race through the animal kingdom invites grownups and alphabet neophytes alike to guess what author/illustrator Patrick McDonnell will come up with for the next letter, and find themselves surprised at every turn. Ages 4-9.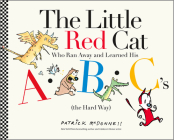 $17.99

ISBN: 9780316502467
Availability: Not On Our Shelves—Ships in 1-5 Days
Published: Little, Brown Books for Young Readers - September 5th, 2017
---
Pages