No matter how you feel about "heroin chic" or her personal life, there is little question that Kate Moss has had an unparalleled modeling career. Kate: The Kate Moss Book (Rizzoli, $85) is a comprehensive collection of images that spans two decades and includes never-before-seen photographs from Moss's own archives. The close collaboration of Moss and her editors, three luminaries of the fashion world, Fabien Baron, Jess Hallett, and Jefferson Hack, has resulted in a book that is as beautiful as it is personal. A friend once said to me, "whatever Kate Moss is selling, I'm buying." My recommendation? Follow my friend's advice and buy this amazing book about a truly stunning woman.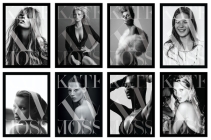 ISBN: 9780847837908
Availability: Special Order—Subject to Availability
Published: Rizzoli - November 6th, 2012
---
In W: The First Forty Years (Abrams,$75), editor-in-chief Stefano Tonchi presents a strikingly diverse collection of images highlighting W's outstanding coverage of fashion, art, architecture, music, and design. The pictures are complemented by specially commissioned essays from some of the magazine's frequent contributors, such as Lynn Hirschberg. As other publications have shrunk their offerings, both editorially and physically, W has maintained its out-sized coverage and format. While the book may not fit easily on a newsstand, it is tailormade for coffee tables. Here's to forty more years!

ISBN: 9781419704475
Availability: Hard to Find
Published: Harry N. Abrams - November 1st, 2012
---
What makes a great fashion image? Vogue: The Editor's Eye (Abrams, $75) answers the question with over 400 pages of striking photographs. This collection, edited by Vogue's features director Eve MacSweeney, covers all 120 years of the magazine's history, spotlighting a distinguished roster of fashion editors, from Polly Mellen to Grace Coddington, whose choices about models, clothes, and photographers have created lasting works of art. Each chapter is devoted to one editor and features a full portfolio of photographs, essays, and interviews. Defining what makes great fashion may be an arduous task, but looking through the pages of this book is certainly a pleasurable one. Covering the who, what, where, when, and why of the fashion world, Vogue magazine has consistently been a stand-out in a crowded field.

ISBN: 9781419704406
Availability: Backordered
Published: Harry N. Abrams - October 1st, 2012
---
Pages