A white, abandoned egg lies in the path of Babak the Beetle (NorthSouth, $17.95) as he rolls his dung ball home. Worried that the egg requires care, he alters his journey in order to find the egg's parents. As he travels over varied terrains, he receives lots of advice. Finally, he comes to a grassy area, where there are similar eggs whose parents are hitting them with long sticks, sending them far away and into little holes! Originally published in France, Fred Paronuzzi's story (translated by Elie Brangbour) begs to be read aloud, while Andrée Prigent's droll, graphic art complements this story of good intentions. Ages 4-7.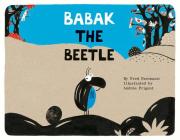 $17.95

ISBN: 9780735842519
Availability: Special Order—Subject to Availability
Published: NorthSouth Books - May 1st, 2016
---
Gordon and Tapir (NorthSouth, $18.95) are the most recent odd couple to star in a picture book. Gordon, a fastidious penguin, loves order and calm, while Tapir (a tapir) is perfectly content with the hodgepodge of his existence. Through spare text and a series of wordless, pencil illustrations, Sebastian Meschenmoser conveys the many emotions of this unlikely pair as they settle their differences. Short-listed for the German Children's Book of the Year Award and translated into English by David Henry Wilson, this comical, heartfelt story requires a careful eye to predict the final outcome and will prompt lots of discussion. Ages 4-8.

$18.95

ISBN: 9780735842533
Availability: In Stock—Click for Locations
Published: NorthSouth Books - April 1st, 2016
---
Recipe for a tantalizing read: combine clever rhinoceros beetles, a missing scientist, brainless hoarders, a greedy fashion maven, and a trio of clever young sleuths capable of fantastical heroic rescues. Debut author M. G. Leonard's smartly written concoction, reminiscent of classics by Roald Dahl, races along with endearing as well as sinister characters who bring plenty of humor and mystery to the page. Darkus Cuttle is Beetle Boy (Chicken House, $16.99) and his curiosity and interest in science—both real and extraordinary—will intrigue budding scientists. A mini Entomologist's Dictionary is included in the back of the book, which heralds the beginning of a promising new series. Ages 9-12.

$16.99

ISBN: 9780545853460
Availability: Special Order—Subject to Availability
Published: Chicken House - February 23rd, 2016
---
Pages