Photographs often serve as the main link between a president and the public. Images burn into our collective memory and become part of history. The companion book to the National Geographic special, THE PRESIDENT'S PHOTOGRAPHER (National Geographic, $35) presents images by the nine men who have captured historic events and private moments in the lives of the presidents from Kennedy (who hired Cecil Stoughton as the first professional White House photographer) through Obama. Complementing images both iconic and intimate, John Bredar has conducted personal interviews with the five living presidential photographers for this stunning, behind-the-scenes peek at the life and work of the presidents.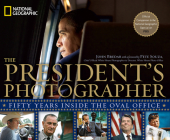 $35.00
ISBN: 9781426206764
Availability: Backordered
Published: National Geographic - November 2nd, 2010
---
The four voices that shape Julia Glass's novel represent various pockets of modern American culture: Percy, a near octogenarian former librarian, and the widower of the title; Robert, his idealistic twenty-yearold grandson; Ira, a gay early-childhood teacher; and Celestino, an immigrant living and working illegally in the United States. Over the course of a year, their intersecting paths will have repercussions on each of their lives. Set against the backdrop of eco-terrorism, limousine liberals, and a longing for the past in the face of rapid change, THE WIDOWER'S TALE (Pantheon, $25.95) succeeds in illuminating the darkest corners of our hypocrisy and hopes, all with Glass's characteristic tenderness and humor.

$25.95
ISBN: 9780307377920
Availability: Special Order—Subject to Availability
Published: Pantheon - September 7th, 2010
---

$16.95
ISBN: 9780307456106
Availability: Special Order—Subject to Availability
Published: Anchor - July 12th, 2011
---
If we don't know where we're from, how can we possibly know who we are supposed to be? And if we don't know who we are, how can we know where we're going? In his second novel, Dinaw Mengestu (author of The Beautiful Things that Heaven Bears) shapes and reshapes the immigrant story in a layered telling that reflects the complications and dangers of having a single national narrative. Yosef and Mariam Woldemariam are Ethiopian immigrants who live in the Midwest and travel to Nashville for a belated honeymoon. Their son, Jonas, tells their story decades later when his own marriage and life in New York City disintegrate. Part road novel, part bildungsroman, HOW TO READ THE AIR (Riverhead, $25.95) will redefine your notions of both genres.

$15.00
ISBN: 9781594485398
Availability: Not On Our Shelves—Ships in 1-5 Days
Published: Riverhead Books - October 4th, 2011
---
Pages