Poets celebrate their own favorite masters of the genre in Out of Wonder (Candlewick, $16.99). Beloved children's author Kwame Alexander and collaborators Chris Colderley and Marjory Wentworth have created new verses that reflect the styles and ideas of some of the world's greatest poets, including Naomi Shihab Nye, Pablo Neruda, e.e. cummings, Rumi, and Maya Angelou. Equally breathtaking are the wealth of illustrations by the dazzlingly talented Ekua Holmes. Her gorgeous, dark-hued collages reflect her own poetic interpretation of the words and beckon you to turn the page and discover even more wonder. Ages 9-12.

$16.99

ISBN: 9780763680947
Availability: In Stock—Click for Locations
Published: Candlewick - March 14th, 2017
---
King Jack and the Dragon (2011) introduced us to the charming young Jack and his comrades. Now they are back for a second adventure, this time as Captain Jack and the Pirates (Dial, $17.99). "Jack, Zack and Caspar, brave mariners three, were building a galleon down by the sea": Thus starts the fanciful, rhyming story that begs to be read out loud to young ones. Join the three young buccaneers on their imaginative voyage, which includes cannons, enemy pirates, and—of course— treasure. Renowned children's illustrator Helen Oxenbury delights with her trademark watercolors that harmonize beautifully with Peter Bently's lively text. Ages 3-6.

$18.99

ISBN: 9780525429500
Availability: Not On Our Shelves—Ships in 1-5 Days
Published: Dial Books - March 29th, 2016
---
Follow the mischievous Skunk on a String (Owl Kids, $16.95) through the pages of Thao Lam's delightful wordless picture book. Somehow, though we're never sure why, skunk is stuck to a floating balloon in a small parade of children and elaborate balloons. See the shocked and worried faces of apartment dwellers as he floats right by, perhaps odiferously. He passes through the zoo, surprising all of the animals and latching on, briefly, to an elephant's trunk. The bright and cheerful illustrations will keep you eagerly turning the pages until the surprising end. Ages 3-6.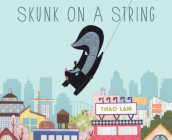 $16.95

ISBN: 9781771471312
Availability: In Stock—Click for Locations
Published: Owlkids - March 15th, 2016
---
Pages