Let's Go To Playgroup (Kane Miller, $11.99) with Bee and Billy, two "tumbly, wiggly, jumbly" tots. Caryl Hart has created a delightful book for the pre-preschool crowd: her sing-song, happy-go-lucky words meld harmoniously with Lauren Tobia's cheerful, bright and lively illustrations. Spend an eventful morning with Bee, Billy, and their friends at their love-filled daycare as they share toys, enjoy a snack, and—of course—sing and dance. Ages 1-3.

$11.99

ISBN: 9781610675819
Availability: In Stock—Click for Locations
Published: Kane Miller Books - March 1st, 2017
---
A Concert In The Sand (Kar-Ben, $17.99) is so lovely that it is sure to join The Philharmonic Gets Dressed and Zin! Zin! Zin! a Violin in the pantheon of classic children's books about the orchestra. This work of historical fiction depicts the first concert of the Israel Philharmonic through the eyes and ears of young Uri and his grandmother. Follow them as they walk through the streets of 1936 Tel Aviv alongside men and women who are carrying curiously-shaped containers and most certainly heading somewhere in particular. Israeli authors Tami Shem-Tov and Rachella Sandbank provide vivid text that combines with Avi Ofer's delightful ink-and-watercolor drawings to create a poignant portrait of a significant moment in history. Ages 6-9.

$17.99

ISBN: 9781512400991
Availability: Special Order—Subject to Availability
Published: Kar-Ben Publishing (R) - January 1st, 2017
---
Something's Fishy (Toon, $12.95) in Kevin McCloskey's newest book! With his entertaining illustrations and goofball humor, the author of We Dig Worms and The Real Poop on Pigeons provides a whole school of fish facts in the increasingly popular graphic novel format. Children will discover how to determine the age of a fish by its scales—assuming, of course, that the fish has scales in the first place. McCloskey also devotes ample time to the noble goldfish, describing what easy pets they make, how they get their color, and how big they can grow in an aquarium. As always with Toon Books, adults new to the genre can refer to the back pages for practical tips on reading comics with kids. Ages 5-8.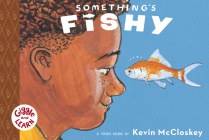 $12.95

ISBN: 9781943145157
Availability: Special Order—Subject to Availability
Published: Toon Books - April 4th, 2017
---
Pages