Who better than a groundhog to narrate Older Than Dirt: A Wild but True History of Earth (Houghton Mifflin Harcourt, $18.99)? Not only does she know her dirt, but she also impresses her curious earthworm neighbor with her extensive knowledge of all aspects of geology. She recounts the how Earth was created in the Big Bang and how it has evolved over billions of years, right up through the climate change crisis we face today. Don Brown and Dr. Mike Perfit's graphic novel presents eons of information in an entertaining and digestible format, with discussions of natural disasters from the eruption of Mount Vesuvius in 79 CE to the 2004 tsunami that will both keep readers hooked and highlight how important this science lesson really is. Ages 7-10.

$18.99
ISBN: 9780544805033
Availability: Not On Our Shelves—Ships in 1-5 Days
Published: HMH Books for Young Readers - September 5th, 2017
---
Sharks have a tendency to provoke extreme reactions in humans: some of us quiver with fear at the mere thought of a great white, while others celebrate them as the pinnacle of coolness (Shark Week, anyone?). Wherever young environmentalists land on this spectrum, they will be invested in discovering what would happen If Sharks Disappeared (Roaring Brook, $17.99). As Lily Williams sensitively demonstrates in her debut picture book, these impressive creatures are quite literally irreplaceable: without their existence, all life on Earth could be at risk. Williams tempers her sobering topic with a clear focus on what kids can do to help, empowering them with a general sense of hope and a specific list of things they can do to make sure that sharks don't go anywhere soon. Ages 7-10.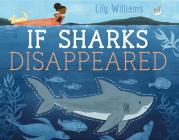 $17.99
ISBN: 9781626724136
Availability: In Stock—Click for Locations
Published: Roaring Brook Press - May 23rd, 2017
---
To some, art may seem unnecessary. For James Castle, however, it was essential. Born in 1899 and never able to hear, speak, or read, he lived in a world of Silent Days, Silent Dreams (Arthur A. Levine, $21.99) as he endured abuse and neglect. He had no way to communicate anything of his experiences… except for art. Even when his teachers confiscated his drawing materials, Castle would use burnt matchsticks and other cast-off items to make images however and whenever he could. Allen Say employs some of Castle's own artistic methods in his nuanced story of Castle's life, told through the eyes of Castle's nephew. The recognition Castle received later in life is a poignant conclusion to a story that will leave an indelible mark on those who read it. Ages 9-12.

$21.99
ISBN: 9780545927611
Availability: In Stock—Click for Locations
Published: Arthur A. Levine Books - October 31st, 2017
---
Pages