As Omu cooks her dinner, an enticing smell wafts throughout her neighborhood. The fi rst knock on her door comes from a child who asks about that delicious aroma. Omu shares her thick red stew with the grateful boy, and continues to do so with others who come calling. Though she ends up having none left for herself, one fi nal knock brings everyone back with a tasty potluck supper to say Thank You, Omu! (Little, Brown, $18.99). Author/illustrator Oge Mora presents an engaging, handsomely illustrated story of a community that comes together over a shared meal. Ages 4-8.

$18.99
ISBN: 9780316431248
Availability: In Stock—Click for Locations
Published: Little, Brown Books for Young Readers - October 2nd, 2018
---
Have you ever struggled to be accepted? Do people refuse to take you seriously? Well, Marmalade the kitten architect knows exactly how you feel. In John Patrick Green's graphic novel Kitten Construction Company: Meet the House Kittens (First Second, $17.99), Marmalade and her fellow college-educated kittens struggle to fit in with the construction industry while also embracing what makes them special. Join The Kitten Construction Company as they battle the prejudices against them in this adorable and accessible story! Ages 5-8.

$17.99
ISBN: 9781626728301
Availability: In Stock—Click for Locations
Published: First Second - September 4th, 2018
---
Why do snails have shells? Just how small is the smallest snail? And why do snails move soooo sloooooowly? (Spoiler alert: mucus is involved!) Kevin McCloskey reveals all sorts Snails Are Just My Speed! (TOON, $12.95), the latest installment in his Giggle and Learn series of fact-fi lled and fun early graphic novels. McCloskey skillfully combines fascinating scientifi c information with his trademark of astounding gastropod facts in cartoon art and irreverent humor in a book that will delight and challenge budding naturalists. Ages 6-8.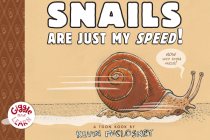 $12.95
ISBN: 9781943145270
Availability: In Stock—Click for Locations
Published: Toon Books - May 1st, 2018
---
Pages