There isn't anything better than going for a bike ride in the forest on a beautiful day, especially when you stop in the forest café for a cup of acorn coffee or clover blossom tea. Join twins Chirri & Chirra (Enchanted Lion, $15.95) as they pedal through a sylvan wonderland, enjoying lunch at a bakery and a dip in a nearby pond. The refreshments offered at the forest's dining establishments are as charming as the animals who frequent them; with mulberry jam sandwiches on honey bread for a bear and little cups of sweet violet tea for the honeybees, there is sure to be something for anyone who happens to drop by. Kaya Doi is a beloved Japanese author and illustrator whose warm-toned pencil, pastel, and crayon illustrations invite readers to step into an enchanted and cozy world where everything is open to exploration. Ages 3-6.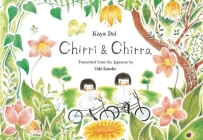 $15.95

ISBN: 9781592701995
Availability: Not On Our Shelves—Ships in 1-5 Days
Published: Enchanted Lion Books - September 6th, 2016
---
In all of India, there is no better lending library than Book Uncle's. With a panoply of volumes spread out on planks of wood, a small tin can for donations, and a sign that reads: Books. Free. Give one. Take one. Read-Read-Read, Yasmin cannot resist a daily visit. So when the city requires Book Uncle to purchase a permit he cannot afford, Yasmin is determined to find a solution. With the help of her friends and several adults, Yasmin takes up this important cause just in time for the mayoral election. In her most recent book, Book Uncle and Me (Groundwood, $14.95), Uma Krishnaswami shows young readers that they can have a voice and an impact even before they have a vote. Ages 8-11.

$14.95

ISBN: 9781554988082
Availability: Special Order—Subject to Availability
Published: Groundwood Books - September 13th, 2016
---
Emmaline lives in a mansion that once was home to a beautiful princess, but as a result of World War II became a hospital for children with tuberculosis. 20-year-old Thomas, who tends the farm and the garden, seems to understand and trust Emmaline, who says she has seen The Secret Horses of Briar Hill (Delacorte, $16.99) reflected in the hospital's mirrors. When the mysterious Horse Lord deposits Foxfire, an injured white-winged horse, in the walled sundial garden near the hospital, Emmaline vows to protect her from dark and sinister Black Horse. Are these animals only a figment of Emmaline's imagination? Or is Thomas the real Horse Lord? Megan Shepherd's original story reads like a classic, shrouded in mystery and open to interpretation. Ages 9-12.

$16.99

ISBN: 9781101939758
Availability: Special Order—Subject to Availability
Published: Delacorte Books for Young Readers - October 11th, 2016
---
Pages