"Kids will be okay as long as they have one good friend," says Shannon's mother. But as Shannon gets older, she finds herself lonely and confused by the social scene around her. Raina Telgemeier fans will enjoy this graphic memoir about Real Friends (First Second, $21.99 HB/$12.99 PB). Newbery Honor-winning author Shannon Hale poignantly conjures up the deep hurt of childhood rejection and the sweet relief of a vivid imagination. LeUyen Pham's art shines when Shannon makes (and sometimes escapes from) friends through imaginative play, as the real world melts away into enchanting fantasy-scapes. Ages 9-12.

$12.99

ISBN: 9781626727854
Availability: In Stock—Click for Locations
Published: First Second - May 2nd, 2017
---
George Ancona, whose photography has documented children's activism in Can We Help? and It's Our Garden, turns his camera and his straightforward, documentary-style text on an extraordinary annual performance at the National Dance Institute of New Mexico. More than 500 schoolchildren come together to perform 20 dances based on children's books, each with artful costuming and expressive choreography that leaps from the page. The elaborate preparations in local school gymnasiums are recounted alongside a quieter story of four boys who are pulled from their classes for extra training. From pas de deux to stage fighting, this is what Boys Dancing (Candlewick, $16.99) looks like. Ages 6-9.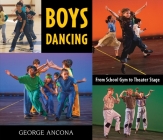 $16.99

ISBN: 9780763682026
Availability: Special Order—Subject to Availability
Published: Candlewick - April 11th, 2017
---
After three years of maintaining our isolationist resistance to entering World War I, in 1917 we heeded the call to Come On In, America (Abrams, $17.95). Richly detailed with period photographs, news articles, and propaganda posters, Linda Barrett Osborne's broad but deep examination of America's participation in the Great War makes a compelling case for why this epoch deserves more attention from the young history lover in your house. Osborne meticulously documents how the first modern war changed America's position in the world and highlighted government hypocrisy and societal injustice on the home front. Ages 11-14.

$17.95

ISBN: 9781419723780
Availability: Not On Our Shelves—Ships in 1-5 Days
Published: Abrams Books for Young Readers - March 14th, 2017
---
Pages