Herman Leonard, one of the great jazz photographers, died earlier this year. In the course of his diverse career he apprenticed with Yusef Karsh, was personal photographer for Marlon Brando, and had his work exhibited around the world. JAZZ (Bloomsbury, $65) presents some of his best photos, ranging from the golden age of the music, through the 1960s, and even into the 1990s. The usual suspects are here: Dizzy, Miles, Pops, and the iconic image of Billie Holiday at the microphone in 1949, as well as a shot of her in her kitchen with her dog. There's Dizzy Gillespie hugging a bashful Ella Fitzgerald. It's mesmerizing to see these men and women in the flush of youth and then, a few pages later, to see how the decades have marked them. These are photographs you'll see new things in each time you look at them. Sit back, put on Kind of Blue, and revel in a little jazz history.

ISBN: 9781608193332
Availability: Out of Print in This Format
Published: Bloomsbury Publishing PLC - October 26th, 2010
---
When Brian Walker first interviewed Garry Trudeau in 1973, it was for an article on the new comix for the alternative weekly, Silver Lining. While Trudeau denied being a spokesman for the counterculture, it became a label that he had difficulty shaking. Walker later curated the first exhibition of Trudeau's work. DOONESBURY AND THE ART OF G.B. TRUDEAU (Yale Univ., $49.95) explores the evolution of the artist from his prep-school drawing to Bull Notes, the predecessor of Doonesbury, and the impact the series has had on pop culture, from the Broadway musical to ties and Starbucks mugs. Walker also introduces the collaborators Trudeau has worked with over the years. There are plenty of strips here as well, from those early days to the present. It's a lovely companion to 40: A DOONESBURY RETROSPECTIVE (Andrews McMeel, $100), which contains 1,800 strips Trudeau selected as representative of the 40 years since Gonzo, Mike, J.J. B.D., and the huge cast of characters first appeared in papers nationwide. He also provides bios of these iconic characters—all contained in a beautiful slip-cased box.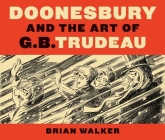 $49.95
ISBN: 9780300154276
Availability: Special Order—Subject to Availability
Published: Yale University Press - November 2nd, 2010
---

$100.00
ISBN: 9780740797354
Availability: Not On Our Shelves—Ships in 1-5 Days
Published: Andrews McMeel Publishing - October 26th, 2010
---
Aaron was a steady Eddie. No flash, just a mind-numbing consistency that was hardly noticed outside of Milwaukee and, later, Atlanta, until he was on the verge of shattering the most sacred record in baseball, Babe Ruth's 714 home runs. Breaking the record was a blessing and a curse. Doing it opened him to an onslaught of racist threats. Aaron had the last laugh, not only breaking the record but leaving the field as the record-holder and becoming an executive with the Braves. If he had one regret, it was that his record was broken in the steroid era. As his biographer, Howard Bryant, author of THE LAST HERO (Pantheon, $29.95), said in an interview, Barry Bonds is the record-holder, but Hank Aaron is the standard-bearer.

ISBN: 9780375424854
Availability: Hard to Find
Published: Pantheon Books - May 11th, 2010
---

$18.00
ISBN: 9780307279927
Availability: Special Order—Subject to Availability
Published: Anchor - May 3rd, 2011
---
Pages