The Vietnam Memorial plays a part in both Maya Lin: Artist-Architect of Light and Lines (Henry Holt, $17.99), a picture-book biography of the designer of the stirring monument, and Rolling Thunder (Scholastic, $17.99), a fictionalized story about the annual Memorial Day motorcycle demonstration in Washington, DC. A graceful narrative by Jeanne Walker Harvey and elegant illustrations by Dow Phumiruk reveal the inspirational story of Lin, who won the design contest for the Vietnam Memorial when she was still in college. Meanwhile, the spare, poetic words of Kate Messner and the evocative drawings of Greg Ruth tell the story of the thousands of motorcyclists who ride annually for freedom, paying tribute to the Vietnam War veterans still categorized as POW or MIA as well as all those who serve in the U.S. Armed Forces. Ages 7-10.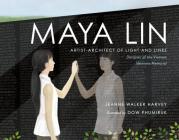 $18.99
ISBN: 9781250112491
Availability: In Stock—Click for Locations
Published: Henry Holt and Co. (BYR) - May 2nd, 2017
---
Women vied for a place behind the wheel as soon as the automobile made its debut. Despite concerns that women driving would upset the social order, Motor Girls (National Geographic, $18.99) joined men on the road and forever changed the roles of women everywhere. Through vintage photographs, primary source material, and a lively narrative, author Sue Macy chronicles the bumpy road faced by many women from the turn of the twentieth century through World War I seeking to stay in the driver's seat. A foreword by racecar driver Danica Patrick gets the book off to a speedy start. Ages 11 to 14.

$18.99
ISBN: 9781426326974
Availability: Not On Our Shelves—Ships in 1-5 Days
Published: National Geographic Kids - February 7th, 2017
---
Every day when Sophie comes home, she looks in on her wheelchair-bound grandfather and asks how his day has been. His answer always prompts a game of hide-and-seek, in which Sophie eagerly hunts for an object her grandfather pretends to have misplaced. Eventually, she finds the missing paperclip, rubber band, paintbrush, or lemon drop In Plain Sight (Roaring Brook, $17.99). Readers will enjoy searching world-renowned illustrator Jerry Pinkney's detailed watercolors for these everyday items, which are hidden among a wealth of mementoes that provide opportunities for Grandpa to tell Sophie stories about his full life. Richard Jackson's simple text combines with Pinkney's delightful illustrations to create an engaging seek-and-find book as well as a story exuding the love and warmth between grandparent and grandchild. Ages 4-7.

$17.99
ISBN: 9781626722552
Availability: In Stock—Click for Locations
Published: Roaring Brook Press - September 20th, 2016
---
Pages