A child growing up in early eighteenth-century England had few reading options: preachy poems, stark rulebooks, and religious texts that made them fear that death was near. Fortunately for more recent generations of young readers, a London publisher and printer named John Newbery thought that these choices were Balderdash! (Chronicle, $17.99). Michelle Markel's alliterative text exuberantly portrays the story of how Newbery set out to publish books that were delightful as well as instructional. Whimsical illustrations by Nancy Carpenter augment this energetic biography of the father of children's literature and namesake of the American Library Association's annual award for "the most distinguished contribution to American literature for children."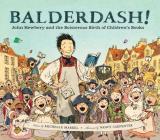 $17.99
ISBN: 9780811879224
Availability: In Stock—Click for Locations
Published: Chronicle Books - April 4th, 2017
---
Eliezer Ben-Yehuda, a scholar living in late-nineteenth-century Jerusalem, was so devoted to reviving Hebrew that he insisted on raising his son, Ben-Zion, to speak The Language of Angels (Charlesbridge, $16.99) and nothing else. It made for a lonely childhood, since neighborhood children spoke Yiddish or other languages. Eventually, Ben-Yehuda realized that the best way to bring back Hebrew was to teach the language to all children, not just one; and so it happened that father and son collaborated to create Hebrew words for modern speakers. Karla Gudeon's illustrations enhance the emotional arc of author Richard Michelson's tale. Back matter provides context and explains where this poignant story diverges from the historical record. Ages 6-9.

$16.99
ISBN: 9781580896368
Availability: In Stock—Click for Locations
Published: Charlesbridge Publishing - February 21st, 2017
---
The Vietnam Memorial plays a part in both Maya Lin: Artist-Architect of Light and Lines (Henry Holt, $17.99), a picture-book biography of the designer of the stirring monument, and Rolling Thunder (Scholastic, $17.99), a fictionalized story about the annual Memorial Day motorcycle demonstration in Washington, DC. A graceful narrative by Jeanne Walker Harvey and elegant illustrations by Dow Phumiruk reveal the inspirational story of Lin, who won the design contest for the Vietnam Memorial when she was still in college. Meanwhile, the spare, poetic words of Kate Messner and the evocative drawings of Greg Ruth tell the story of the thousands of motorcyclists who ride annually for freedom, paying tribute to the Vietnam War veterans still categorized as POW or MIA as well as all those who serve in the U.S. Armed Forces. Ages 7-10.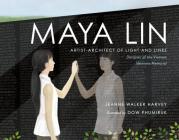 $17.99
ISBN: 9781250112491
Availability: In Stock—Click for Locations
Published: Henry Holt & Company - May 2nd, 2017
---
Pages