Did you know that crows are one of the smartest species on Earth? That's what author Pamela S. Turner and photographer Andy Comins discovered as they documented scientist Gavin Hunt's studies of New Caledonian crows. These oft-maligned birds possess the intelligence necessary to solve complex problems, evinced by their ability to manufacture and manipulate simple tools in order to obtain food! How did they get these Crow Smarts (Houghton Mifflin Harcourt, $18.99)? Do the parents teach their young how to perform these tasks, or are they simply naturally gifted? Turner's compelling, easy-to-read narrative addresses these and other questions in a fascinating exploration of these amazing creatures. Ages 11-14.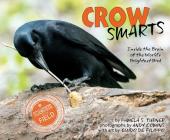 $18.99
ISBN: 9780544416192
Availability: In Stock—Click for Locations
Published: HMH Books for Young Readers - August 2nd, 2016
---
David Macaulay, meanwhile, has released a gloriously updated version of his classic The Way Things Work. The Way Things Work Now (Houghton Mifflin Harcourt, $35) features updated information and entire new sections, including one entitled "The Digital Domain."

$35.00
ISBN: 9780544824386
Availability: In Stock—Click for Locations
Published: HMH Books for Young Readers - October 4th, 2016
---
Who's the most playful animal in the world? The otter, of course! Experience a year in the life of a North American river otter family and discover how the babies grow and learn while their mother helps and protects them. Jonathan London augments his simple text celebrating the otters' joyful spirit with fascinating scientific details: did you know, for example, that these creatures use their whiskers to find food in rocks' tiny crevices? Meilo So's delightful watercolor illustrations are perfectly suited to depicting the ease and fluidity of the otters' movements as they dive, pounce, and roll. This book will inspire you to take a trip to the zoo and discover for yourself how much Otters Love to Play (Candlewick, $16.99)! Ages 4-7.

$16.99
ISBN: 9780763669133
Availability: Special Order—Subject to Availability
Published: Candlewick - March 22nd, 2016
---
Pages