Sharks have a tendency to provoke extreme reactions in humans: some of us quiver with fear at the mere thought of a great white, while others celebrate them as the pinnacle of coolness (Shark Week, anyone?). Wherever young environmentalists land on this spectrum, they will be invested in discovering what would happen If Sharks Disappeared (Roaring Brook, $17.99). As Lily Williams sensitively demonstrates in her debut picture book, these impressive creatures are quite literally irreplaceable: without their existence, all life on Earth could be at risk. Williams tempers her sobering topic with a clear focus on what kids can do to help, empowering them with a general sense of hope and a specific list of things they can do to make sure that sharks don't go anywhere soon. Ages 7-10.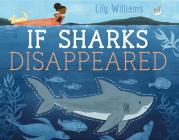 $17.99

ISBN: 9781626724136
Availability: In Stock—Click for Locations
Published: Roaring Brook Press - May 23rd, 2017
---
Do you know which animal has "one THOUSAND" bones? Or which animal has a bone that grows an inch every single day? Do you know which animal has the heaviest bone? If you don't, fear not: Book of Bones: 10 Record-Breaking Animals (Phaidon, $19.95) is here to answer all the bony questions you didn't know you had. With amazing animal facts and a built-in guessing game, Gabrielle Balkan has complied the best bone trivia from around the globe. With colorful, detailed, and textured illustrations by Sam Brewster, this scientific compendium is perfect for both the classroom and the home. Ages 7-11.

$19.95

ISBN: 9780714875125
Availability: In Stock—Click for Locations
Published: Phaidon Press - September 18th, 2017
---
The life of a ladybug can be quite mysterious if you don't look closely enough. But these little beetles lead exciting lives, and The Ladybug (Laurence King, $12.99) uncovers the secrets of their hidden world. Using simple language and brightly colored drawings, Bernadette Gervais describes everything from ladybug anatomy to aspects of the insect's behavior. Gervais's illustrations also feature an array of patterns and colors that shatter the misconception that all ladybugs are identical. Young scientists will learn all about insect metamorphosis and build their etymological vocabulary while interacting with this clever lift-the-flap book. Ages 3-7.

$12.99

ISBN: 9781786270023
Availability: Backordered
Published: Laurence King Publishing - March 7th, 2017
---
Pages