Chris Hayes's popular first book five years ago, Twilight of the Elites, took America's meritocracy to task for a failure of leadership that has resulted in our institutional dysfunction and crisis of authority. That argument seems more relevant today than ever. In A Colony in a Nation (W.W. Norton, $26.95), Hayes, host of a news and opinion show on MSNBC, expands the discussion of America's widening inequality gap begun in his earlier work. He focuses this time on law and order, making a persuasive case that our criminal justice system treats whites and blacks very differently. With characteristic passion and intelligence, Hayes delivers a timely appeal for much greater social justice. "An eye-opening look," said one online reviewer. "Scholarly yet engrossing," said another. "A book for our time," said a third.

$26.95

ISBN: 9780393254228
Availability: Special Order—Subject to Availability
Published: W. W. Norton & Company - March 21st, 2017
---
There is no shortage of Obama Administration alums writing books. The question is: Which are actually worth reading? One is Thanks, Obama (Ecco, $27.99) by David Litt, who became a presidential speechwriter at the ripe old age of twenty-four and now is somehow old enough to pen a memoir. He details his White House experience with humor, self-deprecation, and a healthy reverence for his boss and the causes the Obama Administration championed. Readers will especially enjoy his tales of being the go-to-guy for Obama's funniest lines and most memorable comedic performances. The book offers a nice peek at life inside the White House and the ups and downs of crafting a message for a president – even one who reads, thinks, reflects, and tells the truth.

$27.99

ISBN: 9780062568458
Availability: Special Order—Subject to Availability
Published: Ecco - September 19th, 2017
---
As the official White House photographer, Pete Souza spent countless hours during eight years with President Barack Obama. He captured the famous Situation Room meeting in which Obama, surrounded by senior national security aides, monitored the raid that resulted in the death of Osama bin Laden. And he caught the president in many lighter times as well, whether with children, friends, or family members. In all, Souza took nearly two million photos. Obama: An Intimate Portrait (Little, Brown, $50) reproduces 300 of the most representative ones, documenting consequential moments of decision and official action alongside numerous less scripted occasions. The result is an historic photographic record of a landmark presidency and an intimate portrait of a man who occupied America's most powerful office.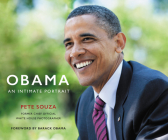 $60.00

ISBN: 9780316512589
Availability: In Stock—Click for Locations
Published: Little, Brown and Company - November 7th, 2017
---
Pages