"What is poetry?" wonders young Daniel upon encountering a sign announcing "poetry in the park." When he asks the animals he knows best, they respond with metaphors highlighting the poetry in nature. Poetry is the crisp crunch of leaves, the sun-kissed sand, and the glistening of the morning dew. Sure enough, Daniel Finds a Poem (Nancy Paulsen, $16.99) to share on Sunday in the park, one that describes all the natural beauty he finds in the middle of a metropolis. Author/illustrator Micha Archer's glowing collage illustrations emphasize this theme, highlighting Spider's web and Chipmunk's acorns against a soft, inviting urban backdrop. With bits of alliteration and loads of sound play, the book is a warm introduction to the beauty of poetry. Ages 3-7.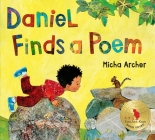 $16.99
ISBN: 9780399169137
Availability: In Stock—Click for Locations
Published: Nancy Paulsen Books - February 16th, 2016
---
How do two fireflies find each other Among a Thousand Fireflies (Candlewick, $15.99)? Poet Helen Frost and photographer Rick Lieder illuminate young readers in their most recent collaboration. After taking the reader to "…a summer meadow near the river, /as night's first stars blink on…" Frost wonders—and then reveals—how a single firefly finds her mate. Lieder's captivating close-up and time-lapse photographs depict the magical insects alighting on flowers and streaking through the night sky. Learn more interesting facts about fireflies in the author's note at the end of the book. Ages 4-8.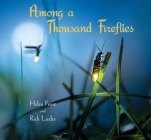 $15.99
ISBN: 9780763676421
Availability: Special Order—Subject to Availability
Published: Candlewick - March 8th, 2016
---
Celebrate poetry all year long with Julie Fogliano's wondrous When Green Becomes Tomatoes: Poems for All Seasons (Neal Porter, $18.99). Tomato-red endpapers trumpet the arrival of thoughtful and playful poems that are sprinkled with touches of humor and are accompanied by Julie Morstad's gently resonating gouache-and-pencil-crayon images. As the seasons unfold, double-page spreads invite the eye to follow along bands of color representing everything from a dock extending into the water to an endless stretch of sea. "Taste the sunshine" of a spring day, escape a "day that drips hot and thick like honey," and anticipate "waiting for sweaters" and "winter's white furry hat" with this very special collection. Ages 5-8.

$18.99
ISBN: 9781596438521
Availability: In Stock—Click for Locations
Published: Roaring Brook Press - March 1st, 2016
---
Pages