Seeking a thoughtful biography? Striking illustrations? Children's poems that wake you up to the world around you? You're in luck: Are You an Echo?: The Lost Poetry of Misuzu Kaneko (Chin Music, $19.50) weaves all these elements into a harmonious whole. Michiko Tsuboi and Sally Ito have translated a selection of Kaneko's poems, accompanied by the original Japanese text, into English for the first time, while David Jacobson provides a compelling account of her short but eventful life. With warmhearted illustrations from Toshikado Hajiri, this volume digs deeply into the empathy, sorrow, and joy that define life as we know it. Ages 6-11.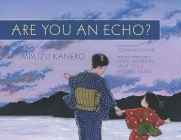 $19.50

ISBN: 9781634059626
Availability: Not On Our Shelves—Ships in 1-5 Days
Published: Chin Music - September 13th, 2016
---
Bacus. Mulvina. Athelia. Qush. Dora. Peggy. Jane. John. Betty. Charlotte. Stephen. These names don't sound familiar for a reason: they belong to slaves whose stories were lost in the oblivion of hatred, inhumanity, and racism— until three-time Coretta Scott King Award winner Ashley Bryan came into possession of the 19th-century document that listed them as property for sale. In Freedom Over Me (Atheneum, $17.99), Bryan pays tribute to each of these individuals with a portrait and two poems, one to describe the reality of life on the plantation and one to give voice to dreams that never came true. This is a deeply moving book that will carry the names of these now-unforgotten souls into the hearts of readers young and old. Ages 10-14.

$17.99

ISBN: 9781481456906
Availability: In Stock—Click for Locations
Published: Atheneum/Caitlyn Dlouhy Books - September 13th, 2016
---
For the littlest book lovers, the 20th anniversary edition of My Very First Mother Goose (Candlewick, $24.99) is a surefire hit: it contains the same classic tales, collected by folklorist Iona Opie, and time-tested illustrations by Rosemary Wells in a fresh new case and cover and includes a note from Opie about Mother Goose's influence through the ages.

$22.99

ISBN: 9781564026200
Availability: Special Order—Subject to Availability
Published: Candlewick Press (MA) - September 2nd, 1996
---
Pages