Pulsing with imagination and hope, this illustrated edition of Langston Hughes's classic poem "Dream Variation" follows a young black boy living in a segregated town in the 1950s. As he observes the injustices around him, the boy imagines a world in which he and his family can live without fear. Daniel Miyares's breathtaking watercolors depict the boy's daydreams of soaring on giant birds, drinking from a stream, and lying in the grass—all with a loving, racially integrated group of friends. Young readers will immediately respond to the beauty, pathos, and hope of the boy's imaginings as he declares, That Is My Dream! (Schwartz & Wade, $17.99). Ages 6-9.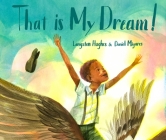 $17.99

ISBN: 9780399550171
Availability: In Stock—Click for Locations
Published: Schwartz & Wade - October 3rd, 2017
---
Nature lovers will flock to The Animal Ark: Celebrating Our Wild World in Poetry and Pictures (National Geographic, $15.99). This stunning partnership between photographer Joel Sartore, Newbery Medal winner and local hero Kwame Alexander, and collaborators Mary Rand Hess and Deanna Nikaido celebrates the beauty of the animal kingdom and issues a clarion call to protect myriad irreplaceable species. All ages.

$15.99

ISBN: 9781426327674
Availability: Special Order—Subject to Availability
Published: National Geographic Kids - February 14th, 2017
---
In another compendium of poetry, Keep a Pocket in Your Poem (Word Song, $17.95), J. Patrick Lewis pairs timeless verses by luminaries such as Emily Dickinson and Langston Hughes with playful illustrations by Johanna Wright and Lewis's own parodies, which range from touching to downright silly (who knew that "Stopping by Woods on a Snowy Evening" would ever inspire "Stopping by Fridge on a Hungry Evening"?). All ages.

$17.95

ISBN: 9781590789216
Availability: In Stock—Click for Locations
Published: Wordsong - March 28th, 2017
---
Pages