There isn't anything better than going for a bike ride in the forest on a beautiful day, especially when you stop in the forest café for a cup of acorn coffee or clover blossom tea. Join twins Chirri & Chirra (Enchanted Lion, $15.95) as they pedal through a sylvan wonderland, enjoying lunch at a bakery and a dip in a nearby pond. The refreshments offered at the forest's dining establishments are as charming as the animals who frequent them; with mulberry jam sandwiches on honey bread for a bear and little cups of sweet violet tea for the honeybees, there is sure to be something for anyone who happens to drop by. Kaya Doi is a beloved Japanese author and illustrator whose warm-toned pencil, pastel, and crayon illustrations invite readers to step into an enchanted and cozy world where everything is open to exploration. Ages 3-6.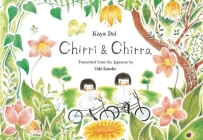 $15.95
ISBN: 9781592701995
Availability: Special Order—Subject to Availability
Published: Enchanted Lion Books - September 6th, 2016
---
With vibrant colors and nostalgic imagery, the pages of Sleep Tight Farm (Chronicle, $16.99) feature a cornucopia of autumnal delights. A rural family moves through the careful process of "putting the farm to bed" for the winter: harvesting and canning fruits and vegetables, ensuring the safety and comfort of the farm animals, and preparing the family home for the winter chill and holiday celebrations. Eugenie Doyle's simple descriptions pair with Becca Stadtlander's charmingly intricate illustrations to turn mundane chores into pleasant family rituals. The narrator wishes a short, but very sweet "good night" to the characters and settings in each vignette, enticing little readers to "sleep tight" with their own loved ones nearby. Ages 3-7.

$16.99
ISBN: 9781452129013
Availability: In Stock—Click for Locations
Published: Chronicle Books - August 2nd, 2016
---
Pages