Old is new again with three familiar tales which are certain to delight fans of all ages. In the 25th Anniversary Edition of Farmer Duck (Candlewick, $16.99 HB/$6.99 PB) by Martin Waddell, a beleaguered duck grudgingly endures his lazy farmer's incessant question, "How goes the work?" Helen Oxenbury's illustrations humorously depict the duck's angst and ultimate triumph with the unexpected departure of his indolent nemesis. Ages 4-7.

$16.99
ISBN: 9780763689186
Availability: Not On Our Shelves—Ships in 1-5 Days
Published: Candlewick - March 14th, 2017
---
Author/illustrator icon Jerry Pinkney has created a gorgeous rendition of the classic Norwegian folktale The Three Billy Goats Gruff (Little, Brown, $17.99). A tweak to the ending, however, might surprise those anticipating the troll's predicted demise. . Ages 4-7.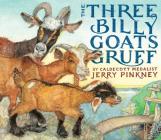 $18.99
ISBN: 9780316341578
Availability: In Stock—Click for Locations
Published: Little, Brown Books for Young Readers - May 9th, 2017
---
First published in 1956, André François's clever story of the derivation of the term Crocodile Tears (Enchanted Lion, $16.95) features a reptilian protagonist who is sly and somewhat manipulative, but also extremely endearing. Ages 4-7.

$16.95
ISBN: 9781592702275
Availability: Not On Our Shelves—Ships in 1-5 Days
Published: Enchanted Lion Books - March 14th, 2017
---
Pages