Budding visual artists, will treasure the lesson Corinna Luyken shares in The Book of Mistakes (Dial, $18.99), in which unintended blobs and smudges form the basis for a wondrous imaginary world. All ages.

$18.99
ISBN: 9780735227927
Availability: In Stock—Click for Locations
Published: Dial Books - April 18th, 2017
---
Many creative forms, from hand claps to proverbs and fables, are celebrated in Let's Clap, Jump, Sing and Shout; Dance, Spin and Turn it Out!: Games, Songs and Stories from an African American Childhood (Schwartz & Wade, $24.99). Patricia C. McKissack gifts readers with an ample compendium of songs, stories, and games that enriched her childhood and that of so many others. These are brought to life by Brian Pinkney's swirling illustrations. Each of these titles will bring joy and wonder to your family. All ages.

$24.99
ISBN: 9780375870880
Availability: Not On Our Shelves—Ships in 1-5 Days
Published: Schwartz & Wade - January 10th, 2017
---
Picture books can be for young and old and help us see hope in the midst of chaos. John McCutcheon's story Flowers for Sarajevo (Peachtree, $19.95), illustrated by Kristy Caldwell, leaves you feeling both the impact of war and the strength of the human spirit; an enclosed CD with music by cellist Vadro Smailovic completes the package. The Banana-Leaf Ball (Kids Can, $18.95) by Katie Smith Milway also tells of all-too-real violence through the eyes of a child. After fleeing his native Burundi, Deo is living alone in a refugee camp in Tanzania when he goes from being bullied to being teammates with his rival. Shane Evans's illustrations evoke a full range of emotions, from fear when Deo initially has to flee his home, to joy when play and friendship ultimately triumph. Ages 7-10.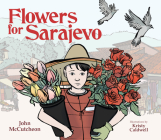 $19.95
ISBN: 9781561459438
Availability: In Stock—Click for Locations
Published: Peachtree Publishing Company - April 1st, 2017
---

$18.99
ISBN: 9781771383318
Availability: Special Order—Subject to Availability
Published: Kids Can Press - April 4th, 2017
---
Pages