Think an alphabet book can't tell a story? David Melling's D Is for Duck! (Kane Miller, $12.99) begs to differ. Magician Duck conjures, in alphabetical order, creatures that propel a zany misadventure rife with humor, dialogue, and action expressed through Melling's jubilant illustrations and only the most essential words. Ages 1-5.

$12.99
ISBN: 9781610675802
Availability: Special Order—Subject to Availability
Published: Kane Miller Books - March 1st, 2017
---
Emily Jenkins's A Greyhound, a Groundhog (Schwartz & Wade, $17.99) similarly digs deep into a few well-chosen words to build a joyful story of interspecies friendship, while Chris Appelhans's watercolors frolic with the text on every page. Together, the circular wordplay and illustrations create a dynamic story that delights the eyes and ears. Ages 1-5.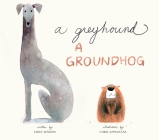 $17.99
ISBN: 9780553498059
Availability: Not On Our Shelves—Ships in 1-5 Days
Published: Schwartz & Wade - January 3rd, 2017
---
Rhymes propel Kes and Claire Gray's Dog on a Frog? (Scholastic, $16.99), a hilarious sequel to Frog on a Log? featuring expression-filled illustrations from Jim Field. Rebellious frog upends traditional children's book notions of just where he should sit (no more logs for that frog!), and the resulting rhymes will surely induce giggles.. Ages 1-5.

$17.99
ISBN: 9781338116953
Availability: Not On Our Shelves—Ships in 1-5 Days
Published: Scholastic Press - May 30th, 2017
---
Pages