In Susanna Isern's wonderful tale, an elderly badger—The Lonely Mailman (Cuento de Luz, $16.95)—faithfully makes his daily rounds, carefully observing his neighbors as he delivers their letters. Through their epistolary efforts, we see how the other animals converse and connect. With each page-turn, illustrator Daniel Montero Galán takes us through the mailman's day—from the glorious reds of sunrise through the silhouettes of evening, and into a candlelit burrow. Galán fills his pages with animals as he gradually reveals a detective story that only the illustrations tell. It all culminates in a powerful and tender resolution that shows the badger he is not so lonely after all. Ages 7-10.

$16.95

ISBN: 9788416147984
Availability: In Stock—Click for Locations
Published: Cuento de Luz SL - April 11th, 2017
---
Curtis Manley has taken versions of the Japanese folktale The Crane Wife and made his own variation—with the addition of insightful haiku—in The Crane Girl (Shen's, $18.95). In this incarnation of the tale, a young man named Yasuhiro rescues a crane and befriends her transformed human incarnation, Hiroko. Her repayment of Yasuhiro's kindness with magical weavings leads to a climactic clash with Yasuhiro's greedy and threatening father. Hiroko's final transformations, which diverge from the original tale, are magical and satisfying. Lin Wang's realistic watercolors are full of beautiful gestures and details, with a hint of Japanese ink-scrolls in her background landscapes. Endnotes provide further information on crane folktale motifs, Japanese poetic forms, and the Hokkaido red crane. Ages 7-10.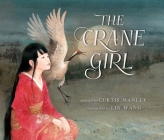 $19.95

ISBN: 9781885008572
Availability: Not On Our Shelves—Ships in 1-5 Days
Published: Shen's Books - March 1st, 2017
---
What could be more whimsical than words, letters, and numbers? Nothing, according to an assortment of new books for young readers highlighting the playfulness inherent in our first experiences of language and counting. Hungry for ABCs? Juana Medina's ABC Pasta: An Entertaining Alphabet (Viking, $17.99) pairs alliterative phrases ("orzo orchestra") with circus-themed illustrations to create a clever and appetizing read. Children will gobble up the pictures' humor: pasta and herbs stand in for beards, zip lines, even a ringmaster's torso. Ages 1-5.

$17.99

ISBN: 9781101999783
Availability: In Stock—Click for Locations
Published: Viking Books for Young Readers - February 7th, 2017
---
Pages