Wilbur, the Naked Mole Rat Gets Dressed (Hyperion, $16.99). Clothes allow Wilbur to let his imagination run wild, but what will grandfather naked mole rat do when he discovers Wilbur's secret? Only Mo Willems could come up with such a hero. Ages 3-6.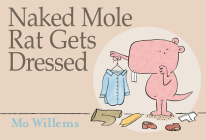 $16.99
ISBN: 9781423114376
Availability: Not On Our Shelves—Ships in 1-5 Days
Published: Hyperion Books for Children - January 6th, 2009
---
There's nothing cuter, more inquisitive, softer, and sometimes more of a nuisance than a kitten, and Posy (Atheneum, $16.99) is the perfect kitten. Linda Newbery juxtaposes the best and most mischievous aspects of Catherine Rayner's little fur ball with phrases such as "Squabble stirrer, charming purrer." Cosy up with Posy. Ages 2-4

$16.99
ISBN: 9781416971122
Availability: Special Order—Subject to Availability
Published: Atheneum Books for Young Readers - December 23rd, 2008
---
Birds (HarperCollins, $17.99) come in all shapes, sizes and colors. Imagine what the sky would look like if clouds were birds, or if birds made marks with their tail feathers when they flew. Kevin Henkes and Laura Dronzek show birds' grace, beauty and more in their lovely new book. Ages 3-6.

$17.99
ISBN: 9780061363047
Availability: In Stock—Click for Locations
Published: Greenwillow Books - February 17th, 2009
---
Pages