Rabbit arrives home one day to hear a loud threat coming from inside his burrow: "I'm the Giant Jumperee and I'm scary as can be!" shouts a stranger. Although Cat, Bear and Elephant try to help Rabbit, they are no match for the mysterious, booming voice. Who is The Giant Jumperee (Dial, $17.99)— and will Rabbit ever be able to return to his home? Find out in this new read-aloud classic from internationally bestselling author Julia Donaldson, beautifully brought to life by award-winning illustrator Helen Oxenbury. Ages 4-8.

$17.99
ISBN: 9780735227972
Availability: In Stock—Click for Locations
Published: Dial Books - April 18th, 2017
---
Sometimes, kids just do not want to take a bath. Around the World in a Bathtub (Charlesbridge, $16.99) explores this universal truth in a humorous and educational journey through different cultures around the globe. Author Wade Bradford uses language and diversity to show the hilarity of resistant children from Turkey to the Yup'ik tribe in Alaska. Illustrator Micha Archer contrasts rich purples and blues with vivid oranges and yellows to bring these international locations to life. This inclusive picture book is a delight for both chagrined parents and their pesky, playful offspring. Ages 5-8. Kasie Griffitts.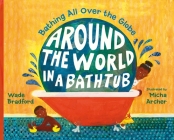 $16.99
ISBN: 9781580895446
Availability: Not On Our Shelves—Ships in 1-5 Days
Published: Charlesbridge - June 20th, 2017
---
A Concert In The Sand (Kar-Ben, $17.99) is so lovely that it is sure to join The Philharmonic Gets Dressed and Zin! Zin! Zin! a Violin in the pantheon of classic children's books about the orchestra. This work of historical fiction depicts the first concert of the Israel Philharmonic through the eyes and ears of young Uri and his grandmother. Follow them as they walk through the streets of 1936 Tel Aviv alongside men and women who are carrying curiously-shaped containers and most certainly heading somewhere in particular. Israeli authors Tami Shem-Tov and Rachella Sandbank provide vivid text that combines with Avi Ofer's delightful ink-and-watercolor drawings to create a poignant portrait of a significant moment in history. Ages 6-9.

$17.99
ISBN: 9781512400991
Availability: In Stock—Click for Locations
Published: Kar-Ben Publishing (R) - January 1st, 2017
---
Pages