A young boy's dip into a pool occasions a meditation on the many ways things can get Wet (Henry Holt, $16.99). He illustrates one technique for accomplishing this as he does a cannonball and sprays his friends with pool water. Playground slides and benches, goldfish, and school floors: there's water everywhere he looks! Carey Sookocheff's muted color palette and simple figures render the world as a child might see it. This is the perfect book to cozy up with on a summer afternoon. Ages 4-8.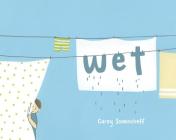 $16.99

ISBN: 9781627797757
Availability: Special Order—Subject to Availability
Published: Henry Holt and Co. (BYR) - June 20th, 2017
---
In the cacophonous village of La Paz, even the showers are cheerfully loud with song. But when residents find it hard to sleep, hear, or think, they fire the mayor and elect Don Pepe, who promises a break from the noise. Yet Don Pepe's increasingly restrictive laws soon ban singing entirely. Only the arrival of a brave rooster awakens the town to the memory of song. Carmen Agra Deedy's The Rooster Who Would Not Be Quiet! (Scholastic, $17.99) includes lively, affecting mixed-media illustrations from Eugene Yelchin, whose use of color heightens the story's shifts in mood. This inspiring tale, available in both bilingual and English editions, is a delight to read aloud in both English and Spanish. Ages 4-8.

$17.99

ISBN: 9780545722889
Availability: In Stock—Click for Locations
Published: Scholastic Press - January 31st, 2017
---
Hasta las duchas resonaban con canciones en el pueblo ruidoso de la Paz. Pero cuando empieza a ser difícil dormir, escuchar, y pensar, los ciudadanos despiden al alcalde y hacen elecciones. Después de prometer un descanso del ruido, Don Pepe gana la elección, pero sus leyes son cada vez más restrictivos. ¡Pronto ni se puede cantar! Solo la llegada de un gallo valiente despierta en el pueblo el recuerdo de canciones bonitas. ¡El gallo que no se callaba! (Scholastic, $17.99) de Carmen Agra Deedy incluye ilustraciones animadas de Eugene Yelchin, cuyo uso de color enfatiza los cambios en emociones del cuento. Este cuento inspirador, disponisble en una edición bilingüe y una edición inglesa también, es un placer leer en voz alta. Ages 4-8.

$17.99

ISBN: 9781338114140
Availability: In Stock—Click for Locations
Published: Scholastic en español - January 31st, 2017
---
Pages